Cost of Living Survey ranks Kathmandu as world's sixth cheapest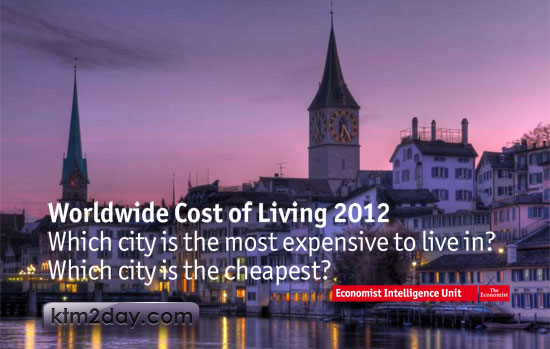 Zurich has overtaken Tokyo to rank as the world's most expensive city for the first time in 20 years, according to the Economist Intelligence Unit's latest Worldwide Cost of Living Survey. The Swiss city was joined in the top five by Geneva, which rose to third place to tie with Osaka.
Whilst Switzerland has long been home to some of the priciest places to live, its upswing in the rankings can be attributed to the heavy investment in the Swiss franc, which is seen as a relatively safe currency outside of the embattled Eurozone, according to the report. Local price inflation in Switzerland has been low, but the report explained that "local inflation in mature markets always has far less influence on the relative cost of living than the currency movements of the countries in question."
Cities in the Asia-Pacific make up half of the top ten—in addition to Tokyo and Osaka, Sydney and Melbourne placed seventh and eighth, respectively, followed by Singapore. Seoul climbed 13 places over the last year to 27th place, and Chinese cities are also increasingly expensive, with Shanghai surpassing New York by two places to rank 42nd.
Hong Kong, which has long been noted as an expensive place to live, is surprisingly ranked at 22, much lower than its third-placed position a decade ago. The report attributed this to Hong Kong's currency peg to the weak U.S. dollar, enabling price increases to not be compounded by exchange rate appreciation.
At the same time, deals can still be found in Asia, as other Asian cities rank as the cheapest places to live. Mumbai and New Delhi in India, and Karachi, Pakistan rank in the bottom five, due to cheap labor and land costs. The report said these factors are "why India has been such a target of labor outsourcing, relocation, and foreign direct investment over the last decade," although it notes that these advantages are accompanied by certain security risks.
The survey, which is conducted twice a year, compares hundreds of prices across 160 products and services, including food, household supplies, transport, utilities, and schooling.
| Rank(Top 10) | City | Country | WCOL index (New York= 100) |
| --- | --- | --- | --- |
| 1 | Zurich | Switzerland | 170 |
| 2 | Tokyo | Japan | 166 |
| 3 | Geneva | Switzerland | 157 |
| 4 | Osaka | Japan | 157 |
| 5 | Oslo | Norway | 156 |
| 6 | Paris | France | 150 |
| 7 | Sydney | Australia | 147 |
| 8 | Melbourne | Australia | 145 |
| 9 | Singapore | Singapore | 142 |
| 10 | Frankfurt | Germany | 137 |
| | | | |
| Rank(Bottom 10) | City | Country | WCOL index (New York= 100) |
| 120 | Muscat | Oman | 63 |
| 123 | Dhaka | Bangladesh | 61 |
| 124 | Algiers | Algeria | 59 |
| 125 | Kathmandu | Nepal | 58 |
| 125 | Panama City | Panama | 58 |
| 127 | Jeddah | Saudi Arabia | 57 |
| 128 | New Delhi | India | 56 |
| 129 | Tehran | Iran | 54 |
| 130 | Mumbai | India | 52 |
| 131 | Karachi | Pakistan | 46 |