Chandra Bahadur Dangi shortest man, the 'shortest ever'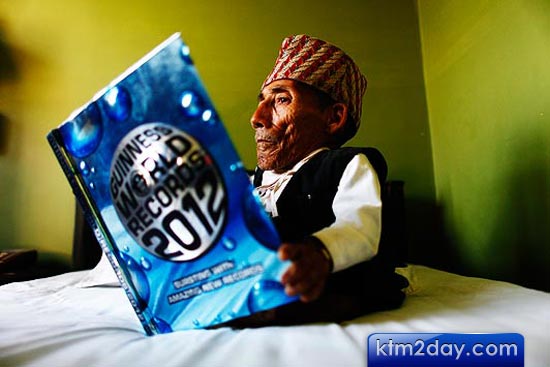 The Guinness World Records (GWR) on Sunday certified a Septuagenarian from Dang district in western Nepal as the "world's shortest person ever documented."
Chandra Bahadur Dangi, 72, of Rimkholi in Purandhara VDC was also declared the world's shortest living man after he was measured by a Guinness team in the Kathmandu-based CIWEC clinic.
The certification brings the title back to Nepal barely eight months after Baglung district's Khagendra Thapa Magar (26.4 inches) lost it to Junrey Balawing (23.5 inches) of the Philippines.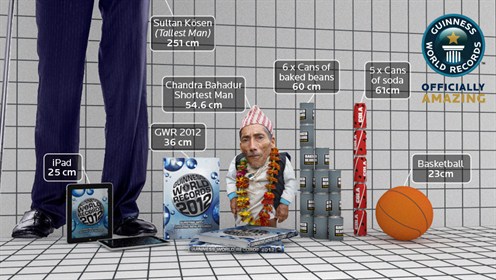 Doctors from the clinic and Guinness officials measured Dangi to confirm his height (21.5 inches). GWR editor-in-chief Craig Glenday handed over two certificates to Dangi—one for being the world's shortest living man and the other for the world's shortest person ever measured in the 57 years of Guinness history. He is also the oldest man ever to bag the Guinness title. Dangi, who weighs a mere 14 kg, broke the record held by Indian Gul Mohammed as the shortest human ever recorded by the Guinness. He is one inch shorter than Mohammed who died in 1997.
"I am very happy," Dangi told a press meet at the Nepal Tourism Board. Expressing his desire to travel, he said, "I want to travel in and outside the country."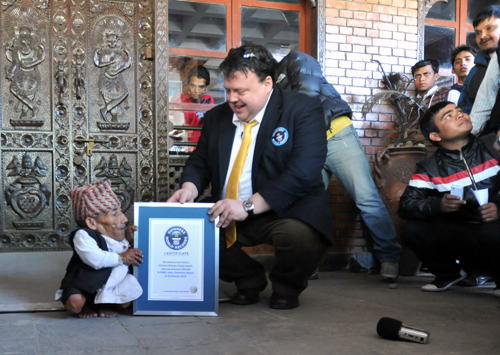 The Glenday-led team landed in Nepal on Saturday.
"The shortest record is continually being broken. Now it is Dangi's turn," Glenday said, adding that clinical reports and the bone density show that the age of 72 that Dangi claims is not unlikely. "He is the oldest man to get the title in our history."
Dangi's relatives said he has never seen a doctor and that he has never been seriously ill or had any injuries. "The doctors did not find any immediate health problem with him," Glenday said. He added that there are around 200 types of dwarfism and that Dangi's is yet to be ascertained.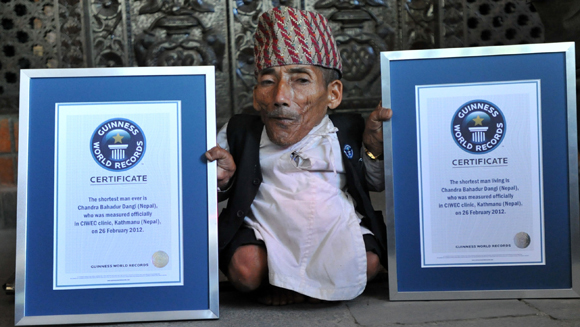 "Because of his height, he mostly remained inside the house and did some household chores," said Nimesh Oli, Dangi's neighbour.
Oli said Dangi spends most of his time chatting with children, singing and playing the maadal. Dangi also sang a song 'pan ko pat…' in the press conference and did not forget to say that with age, his voice has lost its quality. Dangi is still a bachelor, but he said he has no regrets and that he does not want to get married now.(Source:ekantipur)