Nepal to ask India for more air entry points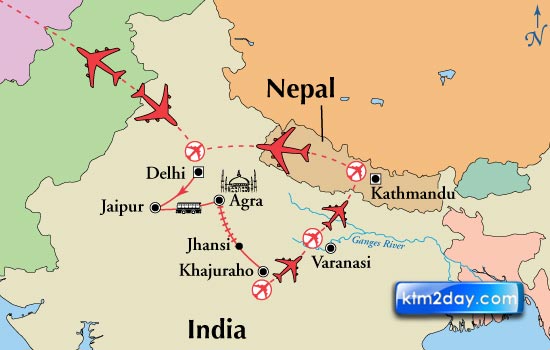 The Ministry of Tourism and Civil Aviation (MoTCA) has formally invited Indian aviation authorities to discuss expanding new cross-border airspaces enabling flights through an additional three routes.
Currently, Nepal has five exit points but only one entry points among the routes connecting Nepal and India. Nepal wants to add entry points for aircraft as the single-entry route has become congested.
Nepal has a single-entry route over Simara but five exit points over Bhairahawa, Biratnagar, Nepalgunj, Janakpur and Dhangadhi.
MoTCA joint secretary Suresh Acharya said that Nepal would propose opening three cross-border bi-directional airspaces (including entry and exit points) over Janakpur, Bhairahawa and Nepalgunj during the discussion.
The move to open cross-border airspaces is directed at benefiting Nepal's domestic airlines aspiring to serve Indian cities. A healthy growth in the number of Indian tourists has encouraged Nepali domestic carriers like Buddha Air to operate cross-border flights to various Indian cities.
Acharya said that the ministry had written to two Indian aviation authorities—the Ministry of Civil Aviation and the Directorate General of Civil Aviation—three weeks ago. India is yet to respond to the letters. However, ministry officials believe that the meeting will take place soon.
Besides expanding airspaces, the two countries are expected to discuss emergency recovery of aircraft during accidents, automatic message switching system and improvement of the air traffic service (ATS), among other issues, in Nepal's aviation sector if the meeting takes place.
Nepali and Indian aviation authorities last met on Sept 10, 2009 when they reviewed the air service agreement (ASA) and signed a technical accord permitting Nepali airlines to increase their weekly seat capacity to 30,000 from 6,000 over the two country's airspace. Nepali airlines have been permitted to fly to 21 destinations in India as per the reviewed ASA.
Acharya said that the MoTCA would forward a draft of the proposal to be discussed during the meeting to the cabinet after getting confirmation for the meeting from the Indian side. "We are awaiting the counterproposal from the Indian authorities."
Nepali airlines seeking to expand cross-border flights have been hampered by the absence of adequate entry points.
Buddha Air had to abandon its plan to fly on the Pokhara-Lucknow route due to the air route problem. The carrier had been allowed to depart from Pokhara to Lucknow; but on its return, it had to enter Nepal from the Simara point making it economically unviable.
Instead of the Pokhara-Lucknow service, it has started Kathmandu-Lucknow flights, and plans to operate a Kathmandu-Varanasi service from March 1. MoTCA officials said the proposed bi-directional airspace would benefit Nepal in two ways.
It will reduce air traffic congestion on the Simara point and encourage participation of more carriers to operate cross-border flights with increased Indian tourist inflow in Nepal. Arrivals from India, the largest source market for Nepal, jumped 39.1 percent to 145,338 (by air only) in 2011. The government is upgrading Gautam Buddha Airport at Bhairahawa and Janakpur Airport as regional international airports, while a new regional international airport has been planned in Pokhara.
Likewise, the Trans-Himalaya 2 airspace (Hong Kong-Kunming-Guwahati-Kathmandu) which is one of the lucrative routes for Nepal, is a top priority on Nepal's agenda for the meeting.
If the route is opened, it will be the shortest way from China and the Far East to the Middle East and Europe. The air distance from Kathmandu to Hong Kong will also be reduced. Operation of this airspace will allow international airlines to fly over Nepali airspace, which means savings in fuel and distance for carriers flying this route and revenue for Nepal.(Source:ekantipur)