Chinese firm to construct West Seti Hydro Project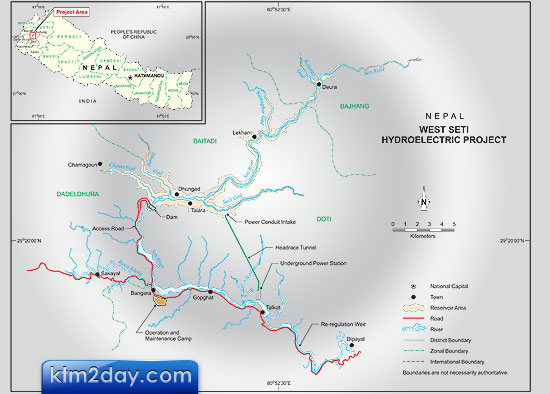 Aims to complete the project by December 2019
Sixteen-year-old West Seti (750 MW) hydro project has got a new developer. The only reservoir project ready for construction located in the far west region will be developed by the China Three Gorges Corporation if a Memorandum of Understanding signed today at the Ministry of Energy gets implemented.
CTG had shown interest to develop the project in May 2011. The Chinese firm had expressed its interest in the project immediately after the government scrapped the licence of West Seti Hydropower Limited which had failed to rope in investors for 16 long years. The MoU was signed today by Energy Secretary Arjun Kumar Karki and CTG Vice-chairman Wang Sabefeng. Chinese Ambassador Yang Houlan and Energy Minister Posta Bahadur Bogati were present.
CTG is the legal entity of the Three Gorges Project (21,000 MW) built on the Yangtze River in China. Estimated cost of the project is between $1.2 and $1.7 billion. Earlier Snowy Mountain Energy Corporation of Australia had signed an MoU with China National Machinery Import and Export Company in December 2010 during then prime minister Madhav Kumar Nepal and then energy minister Prakash Sharan Mahat's visit to Beijing. But later China Exim Bank had withdrawn its interest to fund the project.
According to sources, a Chinese technical team will arrive in Nepal in the third week of March. The ministry is doing groundwork to get the MoU approved by the Cabinet.
Power points
• Project will be constructed for domestic use
• CTG will have 75 per cent share while Nepal Electricity Authority will have 25 per cent
• Local people will be entitled to two to five per cent share out of CTG's 75 per cent
• CTG will help NEA to get funds for equity from China Exim Bank. If the received loan is insufficient, CTG will manage additional funds
• CTG will update all technical studies carried out so far on its own. It will also look for funds for the construction of transmission line to link its product to the national grid
• CTG should complete the financial closure of the project by October 2014. Failure to do so will result in scrapping of its licence
• Construction work to start from July 2014 and will be completed by December 2019
Hydels under construction
• Upper Tamakoshi – (456 MW)
• Chamelia – (30 MW)
• Trishuli 3A –  (60 MW)
• Kabeli A – (30 MW)
• Kulekhani 3 – (14 MW)
• Rahughat – (32 MW)
(Source:THT)