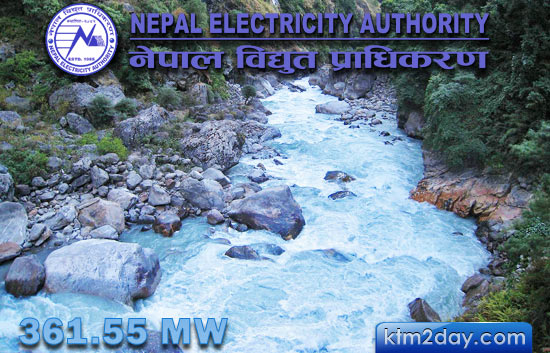 The Nepal Electricity Authority (NEA) signed power purchase agreements (PPAs) for a combined 361.55-MW electricity with 16 independent power producers (IPPs) in the first nine months of the current fiscal year.
The state-owned power utility had signed PPAs for 261-MW electricity with 11 IPPs during the same period last year.
Of the 16 projects that signed the agreement this year, 13 are below 25-MW capacity. Rashugadhi Hydro Power Project (RHPP) is the largest with 111-MW capacity, followed by Middle Bhotekoshi (102 MW). Chilime Hydropower Company Limited (CHCL) has signed the agreement for a combined 255.5 MW for Middle Bhotekoshi, Rashuwagadhi and Sanjen projects.
The authority is also preparing to sign PPAs for another 57 MW electricity—30 MW Khani Khola Hydro Project and 27-MW Dorji Khola Hydro Project.
NEA officials say the PPA signing expedited after the government announced increasing the PPA rate. "With NEA revising the rate, more IPPs are showing interest for signing the agreement," said NEA Director Chirinjabi Sharma.
In June 2011, NEA had increased the PPA rate by 20 percent for projects having less than 25-MW capacity. As per the new rate, hydropower developers will get Rs 8.40 per unit during summer and Rs 4.80 per unit during rainy season. Earlier, the rate was Rs 7 per unit during summer and Rs 4 per unit during rainy season.
NEA General Manager Rajeshwor Man Sultiya said the authority has offered value added tax (VAT) exemption on purchase of construction materials for projects that have pledged to complete construction work until March/April 2015. These projects are also exempted from penalty for delays. "This facility has encouraged developers," said Sultiya.(Source:ekantipur)
Projects that signed PPA this year
| Project | Capacity (MW) |
| --- | --- |
| Tenguwa Khola | 9.7 |
| Daraudi Khola 'A' | 6 |
| Lower Modi | 20 |
| Upper Mailung | 14.3 |
| Hewa Khola | 12 |
| Tame Khola | 1.25 |
| Upper Sanjen | 14.8 |
| Middle Bhotekoshi | 102 |
| Rasuwagadhi | 111 |
| Wadigad | 6.6 |
| Sanjen | 42.5 |
| Gallun | 3.2 |
| Dhunge Giri | 0.6 |
| Sawa Khola | 3.3 |
| Saradi Khola | 3.3 |
| Upper Tadi | 11 |
| Total | 361.55 |
| (Source: NEA) | |