Internet penetration rate nearly doubles to 15.75pc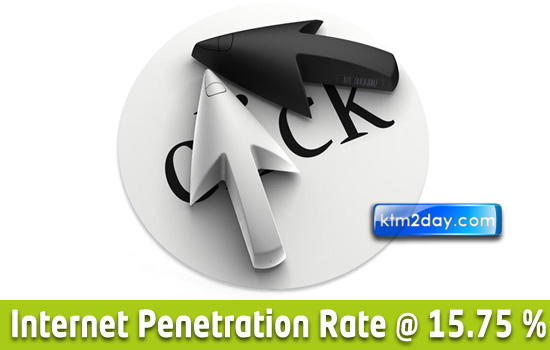 The internet penetration rate in the country has nearly doubled to 15.75 percent in the last one year. The growth is supported mainly by the increased number of subscribers of the general packet radio service (GPRS) mobile internet and ADSL data service.
The number of data subscribers has increased to 4.19 million as of mid-February this year, with a majority of them using mobile internet, according to the Nepal Telecommunications Authority. The number was at 2.26 million until mid-Feb last year with the penetration rate at 7.93 percent.
There has been a heavy increment in the number of people subscribing to GPRS, ADSL, wireless modem and optical fibre broadband internet. The number of users of GPRS service being provided by Nepal Telecom (NT) and Ncell has increased by 95.63 percent to 3.86 million as of mid-February this year, against 1.97 million as of mid-February last year.
NT's ADSL subscriber increased to 78,740—up from last year's 43,547. The number of wireless modem and optical fibre data users grew 143.35 percent to 78,740, as per the NTA figure. However, the number of users of dial-up internet declined by 1.54 percent, cable internet by 47.36 percent and CDMA 1X or EVDO by 2.13 percent in the last one year.
"Many people have switched to wireless high speed data service from slow dial-up service," said NTA Deputy Managing Director Arjun Ghimire, adding that the growth in the number of subscribers was a result of easy mobile internet facility and reduction in the price of high-speed internet services.
The number of users surfing internet on their handsets has also gone up significantly in the last few years. NTA statistics show of the 13.84 million GSM mobile users, 28 percent have subscribed to mobile internet. When there were 5.68 million mobile users in December 2009, 9.13 percent of them used GRPS data service.
Meanwhile, internet service providers' reluctance to submit the actual number of their users on a monthly basis to the regulatory body has affected in determining the exact data penetration rate of the country. There are around 48 ISPs permitted by the NTA to operate email and internet service. But hardly a dozen have been providing regular information to the authority, says an NTA official.
(Source:ekantipur)