Mountain countries vulnerable to climate change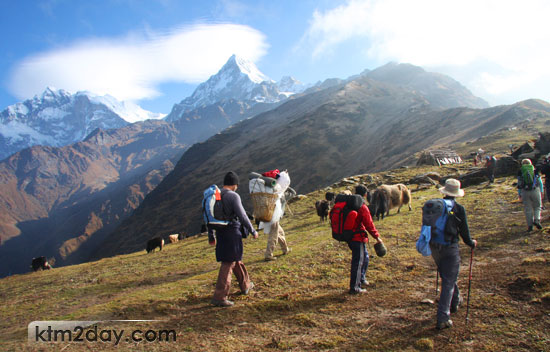 At a programme organised to celebrate International Mountain Day on December 11 last year, Nepali cine star Rajesh Hamal expressed his concern about the fate of the Nepali film industry without snow-capped mountains.
"Our film unit was in Pokhara for a film shoot about a year ago in winter. As always, we wanted to shoot a song with the snow-capped Mt Machhapuchhre in the background," Hamal said. "To my shock, we were greeted by the black-rocky part of this beautiful mountain lacking the snow that used to cover its peak a decade ago."
Hamal's case is testimony to how the negative impacts of climate change are affecting the lives of people no matter which field they belong to. "I'm not much aware of climate change and why it's happening. But the changes in landscapes, including the receding snowlines, are distinctly visible in recent years than I experienced during my three-decade film career," he said.
Various reports have stated how rising temperatures across the globe have accelerated the melting of Himalayan glaciers, affecting the lives of around 1.3 billion people living upstream and downstream of the Hindu-Kush-Himalayan region. Change in climatic system, weather and rainfall patterns, among other phenomena, are being observed recently and are having adverse impacts on the lives of millions of people across the country. The findings of the report—The Status of Glaciers in the Hindu-Kush-Himalayan Region—by the International Centre for the Integrated Mountain Development (ICIMOD) publicised in December last year show that 21 percent of the country's glacial area depleted over the last three decades. In an effort to communicate the issues of mountains and vulnerability of mountain communities to climate change with other mountain countries across the globe, the Government of Nepal is organising a two-day international conference of mountain countries on April 5-6.
Representatives of 55 countries having over-4,000-metre mountains, 25 international organisations and experts are participating in the conference that aims to build a common framework for effective collaboration to allow mountain countries and regions to work together to raise the common concerns on the plights of mountains during international climate change negotiations.
"Finding commonalities of the mountain countries will lead us to convergence of ideas and that would ultimately lead to cooperation between these countries," said Krishna Gyawali, secretary at the Ministry of Environment.
A successful organisation of the two-day conference would play an important role in garnering international support at a time when Nepal has shown keen interest in coordinating the Least Developed Countries' group on climate negotiations for 2013-2014.
According to ministry officials, the meeting will make Nepal visible before the international community and would help enhance Nepal's image and secure support.(Source:ekantipur)