Forex reserves, BoP surplus swell to record high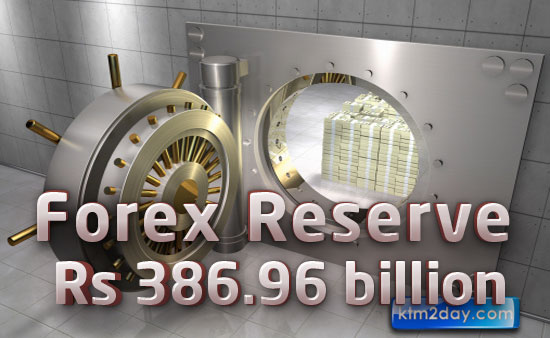 Nepal's foreign currency reserves rose 42.2 percent to record Rs 386.96 billion in the first nine months of current fiscal year, spurred by growing remittance inflow and tourism and other service incomes, according to Nepal Rastra Bank (NRB) statistics.
The figure was at Rs 272.15 billion at the beginning of the current fiscal year.
The current forex reserves are sufficient for financing merchandise imports for 10.04 months and merchandise and service imports for 9.3 months, states the NRB's latest macroeconomic report.
Experts, however, said the continuous devaluation of the Nepali rupee against the US dollar may weaken this advantage as importers will have to pay more to import goods from third countries. "Nevertheless, the figure is satisfactory as foreign exchange reserves which can finance imports for six months are considered healthy," said NIC Bank CEO Sashin Joshi.
Also, the country's Balance of Payments (BoP) registered its highest ever surplus of Rs 91.37 billion over the review period. The BoP figure has set one after another record in recent months, although the surplus was estimated to be at Rs 5 billion.
Economists say a BOP surplus increases a country's credibility by enhancing its debt servicing capacity. They, however, expressed concern about the source of the surplus. "Remittance and tourism played a crucial role in maintaining the massive BoP surplus. And, as both the indicators are highly volatile, it is unwise to formulate a long-term macroeconomic policy considering them," said economist Bishwamber Pyakurel.
Over the review period, remittance inflow rose 36.5 percent to Rs 248 billion.
As far as inflation is concerned, the figure stood at 7.5 percent—slightly higher than the targeted 7 percent. The government aims to tame inflation to 7 percent this year. In recent months, rise in prices of non-food items pushed the overall inflation figure up. Over the period food inflation was at 4.6 percent, while non-food inflation at 10.1 percent.
Pyakurual said although the overall inflation rate of 7.5 percent is moderate, inflation in daily essential commodities is still higher. Strong dollar may challenge NRB in its fight against inflation.
Deposit mobilisation of the banks and financial institutions (BFIs) increased by 13.5 percent to Rs 110.73 billion over the period. Commercial banks posted a 15.8 percent increase in their deposits, while deposits of development banks and finance companies rose 10.8 percent and 1.6 percent, respectively.
BFIs' loans and advances increased by 10.1 percent (Rs 86.49 billion) compared to a growth of 11.3 percent (Rs 84.20 billion) last year. Loans and advances of commercial banks, development banks and finance companies rose 12.8 percent, 6.0 percent and 0.3 percent, respectively.