Electronics sales surge on Euro 2012, rising mercury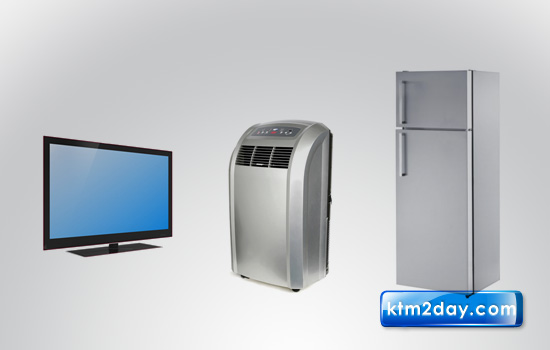 Demand for electronics items such as televisions, air conditioners and refrigerators has risen notably in the domestic market, largely due to rising mercury and the ongoing Euro Cup 2012.
Major electronics dealers such as LG, Samsung, Toshiba, Godrej, Konka and Onida have reported a 40-50 percent surge in demand. "Compared to the same period last year, the demand has gone up by over 50 percent," said Dinesh Karki, manager at Elements of Life (EoL), a subsidiary of CG Electronics, which markets products from Toshiba, Godrej and Onida, TCL and Rico.
Sales have gained momentum following the dissolution of the Constituent Assembly — contrary to traders' expectations. "Sales had almost come to a halt before May 27 and people were reluctant to invest in luxury products. We were expecting a further slowdown in sales," said Karki. "But after May 27, we met our monthly target (mid-May to mid-June) in just 15 days."
Items like refrigerators, deep fridges, air conditioners and fans, among others, are seeing massive sales. "A significant rise in temperature has compelled people to go for these cooling devices," Karki said, adding that they are selling around 8,000 units of refrigerators per month, against 5,000 units a month in the same period last year.
As far as TV sales are concerned, Euro Cup 2012 has been the major driver. Currently, EOL is selling 1,800 units of LCD and LED TVs across the country. Euro Cup is regarded as the best event for TV sales after the World Cup and Dashain.
Another dealer, Saurabh Photo International, which markets electronics from Konka and Force, too is witnessing a rise in demand. Sanjit Raj Joshi, general manager at Saurabh Photo International, said the demand for electronics has surged two folds compared last year. "Especially, the demand for cooling devices has gone up notably," he said, adding that the market in eastern and western Tarai has been 'incredible'.
Even air conditioners, which are considered luxury goods, are gradually becoming essential home appliance because of high temperature. "Generally, major buyers of conditioners are corporate offices. But now, even general public are buying these cooling devices," Joshi said.
The company is also seeing a significant rise in the demand for LCD and LED TVs. "The Euro Cup has become a good excuse for people to upgrade their CRT TVs," Joshi said, adding that the demand for these eighth and ninth generations of television sets has been impressive in city areas. Along with individuals, hotels and restaurants have become the steadfast customers for LCD/LED TVs.
A gradual cut in load-shedding hours has also played a crucial role in boosting electronics sales. "As outage hours go down from this time of the year, sales are expected to escalate further," Joshi said.