NT, ZTE at odds over infrastructure costs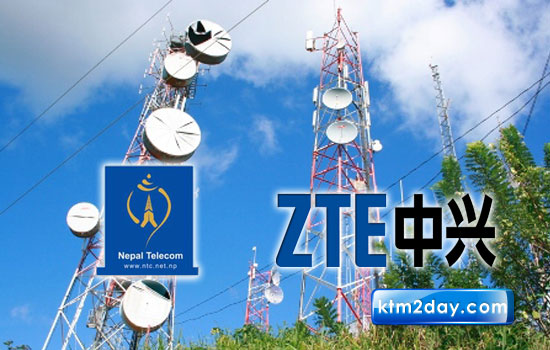 Nepal Telecom (NT) and ZTE Corporation are at loggerheads over the installation of infrastructure for adding 5.2 million mobile lines to NT's network.
Both the sides have been in negotiation for the last three months, but are yet to reach a conclusion. ZTE has already accepted the letter of intent (LoI) issued by NT.
ZTE is asking NT to consider hidden costs such as those associated with the transportation of equipment to remote areas. The Chinese company was selected to supply and install telecom equipment to enable NT to add 5.2 million mobile lines in the eastern, mid- and far-western regions and the central region outside the Kathmandu valley under the package 'A' of NT's mega project of expanding 10 million GSM lines.
Another Chinese company Huawei Technologies has been awarded the package 'B' contract to support NT's plans to add 4.8 million lines in the Kathmandu valley and western development region. Despite quoting the lowest, Huawei was not awarded both the packages as per NT's policy of awarding two packages to two different companies.
ZTE had quoted the second lowest, but it was asked to accept the package 'A' contract at price quoted by Huawei. However, ZTE, despite accepting the LoI, is uncomfortable with the bid amount which it says is too low.
"ZTE has been saying that it will not be able to work at the cost proposed by Huawei for package 'A' — which is around $122 million. ZTE had quoted $155 million," said a source at NT, adding that ZTE has also been asking some additional time, saying that its needs to be clear about NT's requirements for the implementation of the project.
NT has threatened ZTE of canceling the contract and awarding it to Huawei if it does not sign the agreement. Recently, NT had issued a warning letter to ZTE, asking it to sign the agreement within two weeks. It says the delay in signing the agreement might have a negative impact on the whole project that is targeted to meet the demand for until 2015.
Huawei has already signed the agreement for 4.8 million mobile lines at Rs 6.74 billion last June. Under the package 'B', Huawei will supply, install the required equipment and make the service operational in the Kathmandu Valley and the Western development region, according to NT.
"ZTE may withdraw from this project if it finds it hard to undertake," said the source. "But at the same time, it also does not want to irritate a big customer like NT." Around 80 percent of NT's existing network is said to have been covered by ZTE equipment.