Petroleum is Nepal's number one import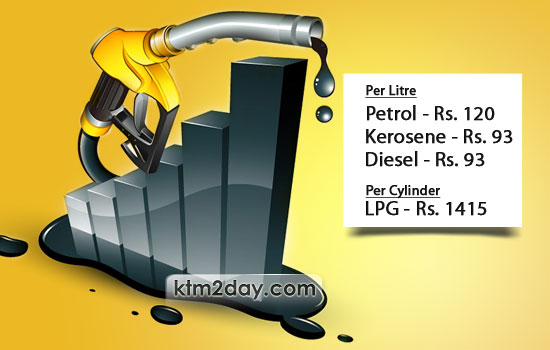 Nepal's largest imports in the last fiscal year were petroleum products, iron and steel products and machinery parts. These three products accounted for 19.56 percent, 10.07 percent and 5.29 percent respectively of the total imports in the last fiscal year 2011-12.
Increased energy consumption due to a long-standing power crisis has made petroleum products the number one import. Nepal's gasoline import bill jumped 27.2 percent in the last fiscal year, according to the latest data of the Trade and Export Promotion Centre (TEPC). The country's import of petroleum products was valued at Rs 96.38 billion in 2011-12. Rising oil prices in the international market, swelling consumption and a stronger US dollar have increased the country's petrol import bill.
According to the TEPC, gold, automobiles and spare parts, electronic and electrical equipment, pharmaceutical products, cereals, telecommunication equipment and parts and crude soybean oil were among the country's top 10 imports last year.Gold imports soared 140.4 percent to Rs 25.77 billion and became the fourth largest import in terms of value. Imports of the yellow metal started to rise after Nepal Rastra Bank loosened the import limit last year. The central bank allowed commercial banks to import 20 kg of gold daily last year, up from 15 kg in the previous year. A rise in world prices also increased the value of Nepal's gold imports.
Meanwhile, imports of autos and spare parts dropped 1.5 percent to Rs 23.87 billion in 2011-12. The import of electronic and electrical equipments has risen 10.3 percent to Rs 21.27 billion.
Despite an increase in the number of pharmaceutical companies and their expanded product portfolio, the import of medicines has been on a rising trend. Imports swelled 16.9 percent compared to a growth of 5.39 percent in the previous year. The country imported medicinal drugs worth Rs 13.71 billion last year.
Meanwhile, cereal imports also surged during the review period. Cereal imports almost tripled to Rs 12.76 billion from Rs 5.03 billion in the previous year.
Top Ten Imports
| Items | Value (Rs in billions) |
| --- | --- |
| Petroleum products | 96.38 |
| Iron and steel products | 49.6 |
| Machinery and parts | 26.06 |
| Gold | 25.77 |
| Transport vehicles and parts | 23.87 |
| Electronic and electrical equipments | 21.27 |
| Pharmaceutical products | 13.71 |
| Cereals | 12.76 |
| Telecommunication equipment | 10.18 |
| Crude soybean oil | 10.13 |