TIA passenger traffic projected to jump 36 percent by 2015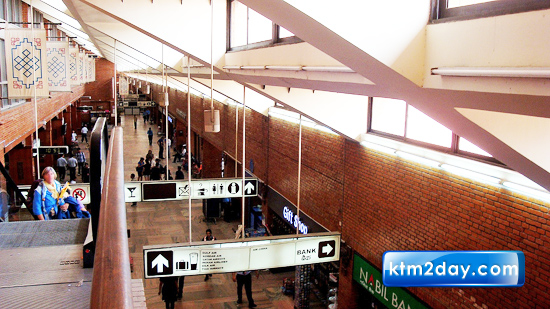 Passenger movement at Kathmandu's Tribhuvan International Airport (TIA) is projected to reach 5.85 million by 2015, a jump of 36.62 percent from the figure for 2011, said the Civil Aviation Authority of Nepal (CAAN).
According to its forecast, aircraft movement is expected to swell 13.47 percent to 115,800 by 2015. CAAN's forecast shows the number of domestic and international air travellers growing more than two-fold to 9.31 million by 2028 compared to the movement recorded in 2011 while aircraft movement is estimated to increase to 232,750 by 2028.
In terms of international passenger movement, it is expected to touch 3.91 million within four years, up 44.88 percent against 2011. Domestic travellers are projected to grow 22.54 percent to 1.94 million by 2015.
CAAN officials said that the forecast is based on the past 10-year cumulative growth rate. Currently, the country's sole international airport has been operating with a severe space crunch and limited infrastructure. It handled 4.28 million passengers in 2011. According to TIA, international carriers flew 2.70 million passengers in 2011 while domestic airlines served 1.58 million travellers.
Similarly, air traffic movement increased to 101,993 in 2011 from 99,281 in 2010. Nepal's skies handled 22,791 international flights in 2011 compared to 19,864 in 2010. On an average, TIA handles 63 international and 217 domestic flights daily.
According to CAAN, TIA's improvement project is being carried out with funding worth US$ 80 million (US$ 70 million in loans and US$ 10 million in grants) from the Asian Development Bank. Under the first phase of the expansion plan, the runway will be extended to 3,350 m from the present 3,000 m towards the south. By 2028, TIA will be expanded to 90,000 sq m. The airport is presently spread over 36,000 sq m with the international terminal occupying 32,000 sq m and the domestic terminal the rest.
Meanwhile, aviation analysts said that the fast rising passenger traffic and aircraft traffic movement had strained TIA to near saturation point. And judging from the forecast, the planned improvement will not be able to keep pace with the growth.
"It's a real forecast based on the projected growth in tourists and Nepali migrants workers," said aviation analyst Kumar Chalise. "Constraints of both airspace and land at TIA will not be able to accommodate the projected growth," he said.
Development of three regional airports in Bhairahawa, Pokhara and Janakpur was planned on the basis of the potential growth in passenger and aircraft movement, he added.
The government has also proposed to develop a second international airport (SIA) in Nijgadh, but it has not made any definite move yet. "The SIA is the only way to address the congestion at TIA, and it should be developed for future growth of the aviation industry in Nepal."
Analysts also said the country was likely to witness tremendous growth in helicopter services in Nepal due to the large number of planned hydropower projects and tourism potential.