SASEC Information Highway Project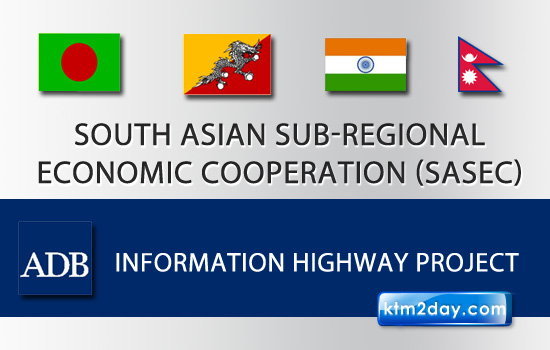 Work on laying an optical fibre connection between Nepal, India, Bangladesh and Bhutan is scheduled to begin from early next year. The Ministry of Information and Communications (MoIC) said it would select an international contractor by December for work inside Nepal.
The project, named South Asian Sub-Regional Economic Cooperation (SASEC) Information Highway Project, is funded by the Asian Development Bank (ADB).
It has focused on three components—setting up cross-border connectivity with a backbone bandwidth capacity of 10 Gbps, making ICT accessibility in rural communities and operating a resource and training centre.
The project will open 30 community e-centres in rural areas besides a research and training centre for development of ICT in the country.
"We are evaluating the financial proposals submitted by eligible Chinese and Korean contractors," said Sushil Ojha, officiating secretary at the MoIC. He added they would select a contractor based on the recommendation of the bid evaluation committee within a month. The evaluation team will submit the name of the lowest bidder to the ministry and inform the ADB in a week's time.
The planned cross-country fibre link will help reduce the cost of using data and voice service in the future. It is also seen as the best way to avoid dependency on satellite connections for communicating with other countries around the world. MoIC officials said that the project would be completed within eight to 10 months after the contract is signed.
Under the project, the government will install an optical fibre link of over 500 km in length skipping the sections where fibre links have been laid by Nepal Telecom. It will provide an alternate backbone route in Nepal for establishing cross-border connectivity through Cable Landing Station (CLS) at Rani, Biratnagar by connecting to the BSNL network in Jogbani, India and another CLS at Birgunj connected to Raxaul, India.
About six months ago, Nepal Telecom, acting on behalf of the government, had signed a contract with Bharat Sanchar Nigam Limited (BSNL), Bangladesh Telecom Company and Bhutan Telecom to establish bilateral interconnections by building a fibre link. As per the government's decision, the ministry will implement the project and hand it over to Nepal Telecom for operation and maintenance.
Call and voice traffic to and from third countries can be handled through India's undersea optical fibre cable connection linking Singapore in the future, after completion of the information highway project. The project has envisaged 10 Gbps bandwidth for supporting multiple-services and providing backbone capacity for a number of services including next generation networks, internet protocol (IP) TV, voice over internet protocol (VoIP) services, high speed internet and digital TV.
In 2009, the ADB had provided US$ 9 million for the SASEC information highway project, but work had slowed as collaborative work was needed with similar ADB supported project implementing bodies in India, Bangladesh and Bhutan, said ministry officials. In India, the ABD has entrusted a similar project to BSNL, the Indian government-owned telecom company.