Kathmandu-Hetauda Tunnel Highway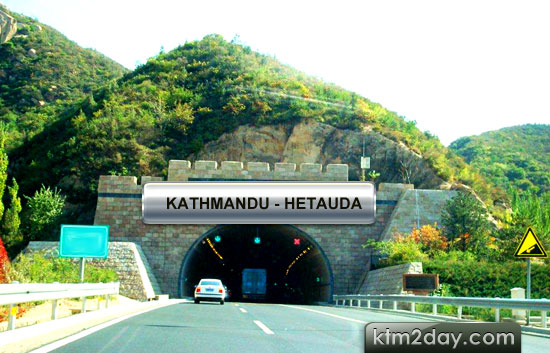 The detailed project report (DPR) of the Kathmandu-Hetauda Tunnel Highway has showed that the tunnel road requires a minimum investment of Rs 23 billion.
Nepal Purbadhar Bikas Company, established to undertake the project, has targeted to start construction by February next year.
The company, which recently submitted the DPR to the Ministry of Physical Planning, Road and Transport Management, has requested the latter to sign a concession agreement within December, according to the ministry.
The company plans to build the highway under '4P' model—public, private, people partnership—a new investment concept. Earlier, the company had estimated the cost at Rs 20 billion.
The 51km route connecting the Capital with Hetaula (and hour's drive) will have tunnels in some sections like Bhimpendi-Kulekhani. Company officials said the actual size of the investment will be known once the government reviews the DPR and decides on issues like tax holiday, toll fee and other services to be provided.
"The cost for the tunnel highway can go above Rs 23 billion, depending on the government facilities to the company and toll fee for vehicles," sail Lal Krishna KC, vice-chairman of the company, who is also the project manager.
As shareholders, the Federation of Nepalese Chambers of Commerce and Industry, the Federation of Contractors Associations of Nepal, non-resident Nepalis and over 50,000 locals from 26 VDCs in Kathmandu, Lalitpur and Makwanpur districts are investing in the project. Under the '4P' model, locals and the general people are able to invest at least Rs 10,000 in the project and there will be around 100,000 shareholders.
The company plans to complete the construction within three and half to four years. KC said they have submitted the environment impact assessment report to the government for approval and for paving the way for tunnel pathways. He added work on acquiring private land required for the tunnel road is underway and the government would help acquiring government-owned land and help settle forest issues.
The government is mulling developing the tunnel highway in Asian Highway standard. The Phsycal Planning Ministry and the company in May had signed a memorandum of understanding to construct the tunnel road.
A ministry official said they are going through the report and the ministry 'is serious' about signing a final agreement at the earliest. "We also need to seek suggestions from the National Planning Commission," he said.
The tunnel road will be the shortest route to Hetauta from Kathmandu via Kulekhani. Currently, commuters have to take the Tribhuvan Highway (133km) or Kathmandu-Mugling-Hetauda route (227km).