Sales of electronics pick up with winter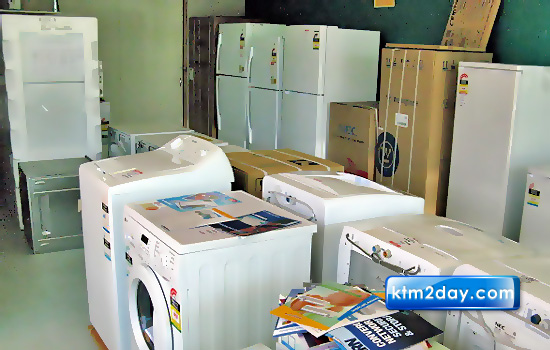 Sales of consumer electronics, which had remained on the slower side since the end of the Dashain and Tihar festivals, have started regaining momentum. Major electronics dealers have reported that sales have started improving with the onset of the winter when people tend to buy various electronic appliances. Traders said that transactions had jumped by around 30 percent.
"The arrival of the winter season has pushed up demand for electronic appliances. Due to this, our sales have increased by around 30 percent," said Binay Tripathi, deputy general manager at HIM Electronics, which markets electronic items from Samsung in Nepal.
According to him, sales of washing machines, microwave ovens and vacuum cleaners in particular have zoomed. "Since the market for such appliances goes up during the winter season, we have come up with new models which feature the latest technologies, and it has resulted in good sales," Tripathi said.
Samsung has recently introduced washing machines with a "delay start" feature. This allows users to set the time as per their requirement and also time their machines to start when there is no load-shedding.
"Apart from this, sales of flat panel television sets too have gone up," Tripathi said, adding that the growing attraction of people for LCD and LED television sets has pushed up demand for such items. "As the trend of using CRT television sets seems to be on the wane globally, people have been upgrading to LCD or LED televisions. Due to this, sales of flat panels have been encouraging since the past few years," he added.
Apart from the colder weather, a growth in the trend of nuclear families has led to rising sales of such kinds of electronic items, said traders. According to Tripathi, people living in nuclear families have a busier schedule, and thus they buy items like washing machines, microwave ovens and vacuum cleaners for their comfort and convenience.
Meanwhile, another prominent player in the domestic consumer electronics market, CG Electronics, too has reported a rise in sales. Purshotam Bhandari, manager, LG division at CG Electronics, said that sales had expanded by 30-35 percent. "Since the impact of increased load-shedding is still to be felt on the electronics market, sales have been steadily rising," Bhandari said. Like Samsung, LG has reported a growth in sales of washing machines and microwave ovens. CG Electronics plans to introduce a new range of microwave ovens next week.
Likewise, electronics sellers in the city core areas like Asan, Mahabouddha and New Road reported a huge increment in sales. Ishwor Dangol, who runs an electronics outlet in Asan, said that sales at his store had jumped by more than 50 percent compared to normal days. "Demand for kerosene and gas heaters in particular is very good," Dangol said. He added that demand for electric heaters had been stable with corporate houses and small offices with backup power buying them.
Despite a significant increment in sales, traders said that the wedding season hadn't been all that exciting compared to previous years. "Sales of products like refrigerators normally increase during the marriage season, but it hasn't happened this year," Tripathi said. CG Electronics too reported that the impact of the wedding season on sales of electronics had been negligible.