New airlines to be issued AOC after they get aircraft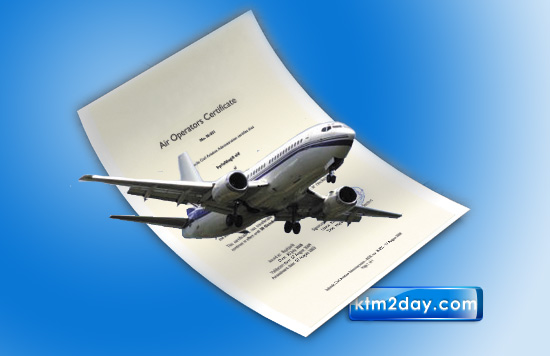 New airlines will be issued an Air Operator Certificate (AOC) only after they have acquired aircraft. The Civil Aviation Authority of Nepal (CAAN) has enforced the revised Air Operator Certificate Regulation 2012 (AOCR 2012) which requires proposed carriers to put their fleet together to get their operating permit.
The revised regulation that went into effect from Nov 2 says that CAAN will only issue new airlines a no-objection certificate (NOC). They will get their AOC after they acquire planes to operate their service.
Under the old regulation, new airlines were required to purchase aircraft within six months after acquiring their AOC. CAAN will examine the applicant's feasibility, infrastructure and other basic requirements before issuing the NOC. The revised regulation will also affect airlines that have obtained their AOC but still do not have planes.
According to CAAN officials, the move aims to stop haphazard distribution of AOC as there has been an increasing tendency among airlines of obtaining an operating permit but not acquiring aircraft within the stipulated time.
"The revised regulation has made it tougher to establish a new airline. This way, only genuine parties will get involved in the aviation business," said CAAN director general Tri Ratna Manandhar.
"The old regulation has been amended as per the international requirement."
AOCR 2012 says that Rs 5 million has to put up as a security deposit to operate a domestic commercial air transport service. The security deposit for an international airline is Rs 50 million. The applicant is required to have all the necessary operational documents like flight operations requirements and civil airworthiness requirements (NCAR) Part 145, according to CAAN.
The old AOC-R used to allow new companies to apply for an AOC within six months after issuance of the operating license by the Ministry of Culture, Tourism and Civil Aviation. The revised regulation has also set a number of conditions for a company planning to bring aircraft under dry or wet lease agreements.
As the period of validity of an AOC is at least two years, AOC holders without aircraft have to submit their safety audit 30 days prior to expiration of the AOC.
"The provision requiring airlines to submit the safety report means the AOC of those who have not started flights will be suspended or revoked automatically," said a CAAN official.
According to CAAN, there are presently 23 valid AOCs, 12 of which are possessed by fixed wing operators which are currently in operation. Swift Air, Alpine Air, Blue Airways and Namaste Air have valid AOCs, but they are yet to start operations. Another new company Sourya Air has applied for an AOC. Officials said that Sourya Air needs to comply with the revised regulation.