Mechi-Mahakali Railway Project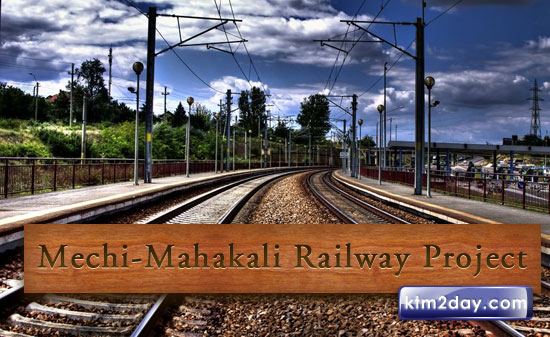 Bardibas-Simara-Birgunj section to cost Rs 99 billion
Construction of the Bardibas-Simara-Birgunj section of the proposed Mechi-Mahakali Electric Railway would cost a maximum of Rs 99 billion, according to a detailed project report (DPR) currently being drafted by a South Korean consultant.
The 136km Bardibas-Simara-Birgunj section is considered as one of the most feasible parts for the construction and operation with two connections with an Indian railway network linking Birgunj and Bardibas, where Janakpur-Jayanagar railway is being extended.
The DPR study shows the cost for the construction for the Bardibas-Simara-Birgunj section would range from Rs 79 billion to Rs 99 billion. "The exact size of the budget required will be known after finalising the type of facility, safety measures, quality and level of service to be incorporated in the railway construction plan," said the source.
South Korean firms Chungsuk Engineering, Korea Rail Network Authority and Kunhwa Consulting and Engineering, two local firms Fulbright Consultancy and Shah Consulting, and an Indian firm— International Consulting Technocrats—are involved in the preparation of the DPR. On Sunday, consultant is holding final round of presentation to receive inputs and finalise the DPR.
Rajeshwor Man Singh, superintendent engineer at the Department of Railways, said that the presentation and discussion slated for Sunday would help collect suggestions for the section construction. "The consultant will submit us the final DPR based on the feed back from the draft presentation," he said.
It is estimated that the DPR will be ready within the next two months with its detailed design, estimated cost and bid documents for the construction of the proposed electrical railway. The Bardibas-Simara section will pass through Bhawanipur, Manaharwa, Kumargari, Chocha, Chandranigahapur, Mangalpur, Sukhepokhari and Nawalpur as per the inception report of the DPR released earlier.
Similarly, the Simara-Birgunj link will help connect the proposed Mechi-Mahakali railway with Integrated Check Point and Birgunj Dry port passing through Jitpur and Lalparsa. The feasibility study conducted by RITES India in 2010 had recommended a broad gauge 1,676mm railway system capable of handling loads of 25 tonnes for bridges and 22.9 tonnes for the track with speed of 160km per hour.
The feasibility study had concluded that the 1,317.47 km Mechi Mahahakali rail project would cost an estimated Rs 800 billion for connecting Mechi in the East to Mahakali in the West, passing through major junctions starting from Kakarvitta, Itahari, Bardibas, Simara, Tamsariya, Butwal, Kohalpur, Attariya and Gaddachuki in Mahakali. The project also includes Kathmandu-Pokhara, 185km.
The proposed railway project has been on top of the government's priority list for the past three years. South Korea has also been showing interest to undertake Bardibas-Simara-Birjung section, offering a soft loan, according to Railways Department.
The government is also preparing to sign an agreement with the South Korean government for support in overall railway sector development in Nepal.