Wage hike awaits Nepalis working in Qatar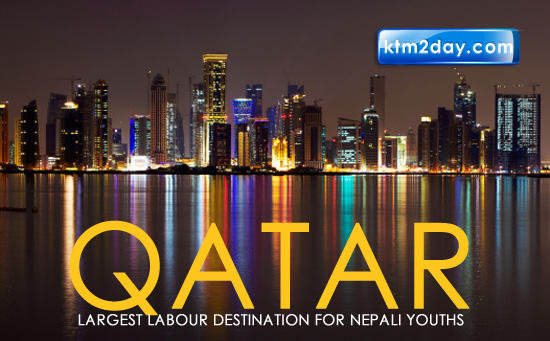 The decision is expected to provide cushion to those bearing the brunt of high living cost.
KATHMANDU, Jan 14: The government is all set to jack up minimum remuneration of Nepalis working in Qatar by 400 Qatari Riyal (QAR) keeping in view the increasing cost of living in the labor destination.
The government´s latest move is also expected to create uniformity in remuneration of Nepalis employed in major labor destinations in the Gulf, such as Saudi Arabia and the UAE.
"We are making final preparations to increase the minimum wage of Nepalis working in Qatar so as to make the remuneration at par with that extended in Saudi Arabia and the UAE," Buddi Khadka, spokesperson of the Ministry of Labor and Employment (MoLE), told Republica on Sunday.
Once the wage hike is introduced, the Department of Foreign Employment (DoFE) will allow manpower agencies to send Nepalis to that destination only if employers agree to provide the new minimum salary fixed by the Nepal government.
Currently, the MoLE is working on raising the minimum remuneration of Nepali workers in Qatar to 1,000 QAR per month, which include 800 QAR as salary and 200 QAR as food and accommodation allowance. As of now, Nepali workers are receiving 800 QAR in monthly remuneration, which includes 200 QAR in food and accommodation allowance.
"We are taking the decision soon in line with the recommendation made by our embassy in Qatar," said Khadka.
Qatar, which is home to more than 250,000 Nepali workers, received 26,416 additional Nepalis in the first five months of the current fiscal year.
The government has already raised minimum wages of those working in Saudi Arabia and Kuwait to 1,000 Saudi Riyal, which includes 200 Riyal as food and accommodation allowance.
Recently, the Malaysian government increased the minimum salary of workers, including foreign migrants, to 900 Ringgit from 546 Ringgit in a bid to transform itself into one of the highest paying countries for workers.
Qatar, the UAE, Malaysia and Saudi Arabia together provide employment to more than 95 percent of Nepalis who left the country for employment purpose through formal channel. A total of 140,468 workers left for those four major destinations in the first five months of the current fiscal year till mid-December.
Meanwhile, RSS reported that the foreign employment agencies have decided not to take service charge from women looking for jobs in the Gulf region.
Bal Bahadur Tamang, president of Nepal Association of Foreign Employment Agencies (NAFEA), said the NAFEA has already forwarded its decision to the MoLE and the DoFE.
The new provision will apply on Qatar, Saudi Arabia, the UAE, Kuwait, Bahrain and Oman, which are receiving significant number of Nepali women migrants, Tamang said.
The move comes at a time when foreign employment agencies are being criticized for acquiring fees from job aspirants even when employers bear entire cost to bring in workers.
Currently, Nepali women leaving for the Gulf countries are paying around Rs 80,000 as service charge to manpower agencies.
The UN estimates that some 250,000 Nepali women are working in Gulf counties, of which 63,000 are working in Saudi Arabia, 25,000 in Kuwait, 18,000 in Qatar, 10,000 in Oman and seven thousand in the UAE.