New Myspace goes live, focuses on social music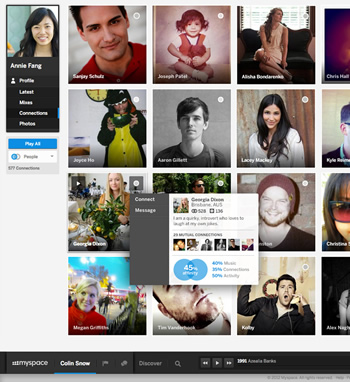 After several months in beta, Myspace has once again opened its doors to the public. Formerly the most prolific name in social networking, stakeholders are hoping the site's daring revamp, Justin Timberlake's involvement and its newly found focus on music will bring Myspace back into relevancy once more.
The new Myspace features totally redesigned profiles and a decidedly modern, graphics-heavy look. The splash page, which can be found at new.myspace.com — www.myspace.com redirects to that subdomain, by the way — features a sharply dress Justin Timberlake with a link to his latest single and two big buttons: "Join" and "Sign In". Existing Myspace users can either log on using "Myspace Classic" or create a new account. Interestingly, while crafting a new Myspace account, visitors may (ironically) log in to Twitter of Facebook in order to populate their information. Even so though, visitors still need a Myspace account in order to access the service.
In a move that CEO Rupert Murdoch would eventually refer to as a "screw up", News Corp. acquired Myspace in 2005 for a whopping $580 million. At its height in 2008, Myspace boasted around 130 million users and over 75 million unique monthly visitors. During 2009 and 2010 though, the social networking site tanked in popularity almost as spectacularly as Facebook's meteoric rise to social network stardom.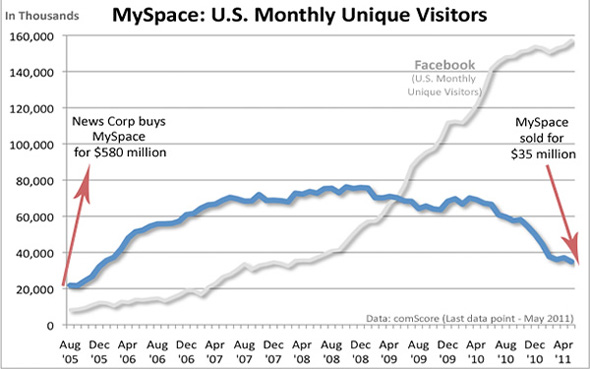 Following signs of its implosion, News Corp. began looking for Myspace buyers in 2010 and 2011. The company set a relatively low buyout price of $100 million — that's $480 million less than it paid in 2005 — but finally sold the property for a paltry $35 million to Specific Media, a company backed in part by Justin Timberlake.
Will the new Myspace find its way into your digital life? Let us know what you think.