PayPal partners with NCR to get into restaurants, gas stations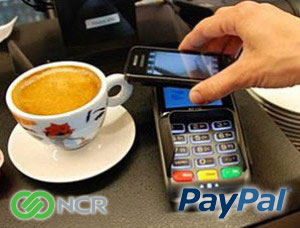 SAN FRANCISCO (Reuters) – PayPal took another step in its effort to expand in the physical retail world on Tuesday, unveiling a partnership with ATM company NCR Corp that will get the payment service into restaurants and gas stations.
PayPal, the dominant online payment business owned by eBay Inc, said its mobile service will be integrated with NCR's point-of-sale, or POS, technology to allow diners to pay for their meal at restaurants using a smartphone.
The companies also agreed to integrate PayPal mobile payment options into NCR's Convenience-Go application for gas stations and convenience stores.
This lets shoppers buy fuel, food, and pay for car washes with their smartphones.
PayPal is trying to expand from its online roots into the physical retail world, which is a much bigger market.
Getting the service accepted in categories such as restaurants, gas stations and convenience stores is important because shoppers visit and pay at such locations regularly.
PayPal is teaming up with providers of payment technology and services that are already installed in physical stores, helping it expand more quickly.
NCR's customer base includes 38 percent of the top 100 U.S. restaurant chains and 50 percent of the major retail chains.
On Monday, PayPal unveiled similar agreements with a chain of gas stations and a grocery store operator.