Kathmandu-Tarai Fast Track road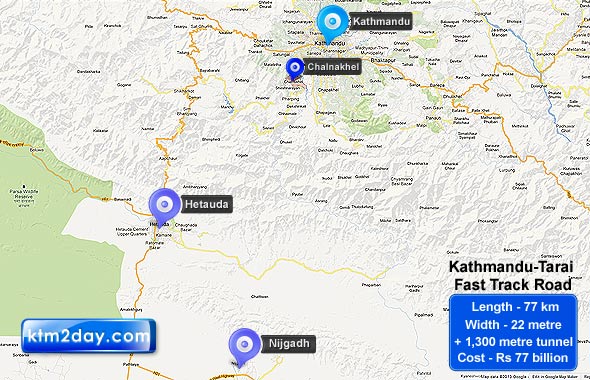 Chalnakhel-Nijgadh track opening to complete by next two weeks
The much-talked-about Kathmandu-Tarai Frast Track Road's track opening work from Chalnakhel, Lalitpur, to Nijgadh, Bara is all set to complete within the next two weeks. There is only 1 km left, according to technical officials of the Nepal Army (NA), which is entrusted with the job.
"We are working round the clock to complete the track opening by March 10," said an NA technical officer. He said there are two-three difficult locations left, which will be completed within the targeted time. However, NA's target does not include around 8 km Khokana (Lalitpur) stretch.
NA personnel are working even in the night to complete the work by March 10 (the Nepal Army Day or Maha Shivaratri). The Directorate of Development and Military Engineering Service of the NA has directed the personnel to complete the work by the day.
A total of 700 NA personal have been deployed for the track opening work, setting up camps in 10 locations between Sisneri and Nijgadh, where the road ends. The locations where the work is left include Ipa VDC 2 (around 200 metres in Ipaveer), Gadhi VDC 1 (100 metres in Badar Khola), Chhatiwan VDC 4 (700 metres in Adheri and Aapdamar). All the locations fall in Makawanpur district.
NA will have to open service track in Aapdamar and Adheri. It Ipaveer and Gahdi, it will have to cut through cliffs using explosives.
NA started the project's track opening work in November 2009 as per the government's assignment. As of the current fiscal year, the government has allocated Rs 820 million for the job.
As of the last fiscal year, the NA had opened 60 km track of the express highway, except in Khokana, Lalitpur. Project officials said the job was delayed due to problems in acquisition in Khokana, Lalitpur. "Some changes have been made on the Khokana alignment, where we are acquiring less than the required land as a solution to the problem," said Rajendra Sharma, project manager.
After the change on the Khokana alignment, the length of the road is estimated to reach 77 km. As per the government plan, the road will be 22 metre wide and will connect Kathmandu with Nijgadh within a one-hour drive. It is estimated that the project will cost Rs 77 billion. The road will have a 1,300-metre tunnel in Thinggan VDC, Makawanpur, where 54 km of the road length falls.
NA technicians said track opening in Makawanpur had not progressed as anticipated due to the delay in providing compensation to the locals. Ramesh Thapa, chief of the Makawanpur Site Office, said they would start providing compensation soon.