Tourism industry optimistic about upcoming season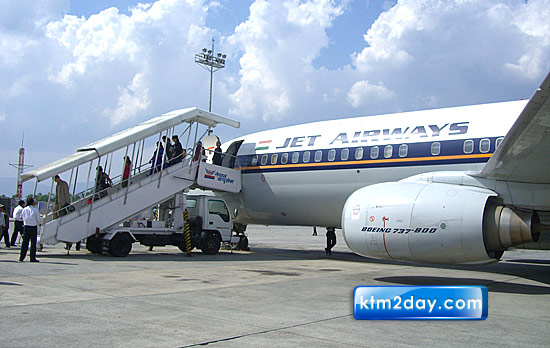 Travel trade industrialists are expecting good times this peak tourist season (March-May) after witnessing a slowdown in visitor numbers.
Tourist arrivals in Nepal dropped in October last year and the growth rate slowed in November and December too, affecting luxury hotels. The trend continued in January with the industry observing a 15.9 percent drop in foreign visitor numbers. Arrivals from major source market India dropped 26.1 percent in the month.
As a result, a number of hotels reported a significant drop in their occupancy and even went for tariff under-cutting measures to lure travellers. Hoteliers said they recovered to some extent in February, and "March looks better".
According to hoteliers, occupancy in February has so far been good and reservation for March "is also positive". However, some hotels preferred by Indian travellers are still facing low occupancy due to reduced Indian travellers' movement. "Indian visitor movement has dropped dramatically. As a result, we have projected monthly occupancy at only 60 percent for March," said Bharat Joshi, resident manager at Hotel Yak & Yeti.
Joshi said February has so far been good for his hotel due to increased Chinese movement. "Despite the drop in Indian visitor numbers, improved Chinese movement kept many hotels busy in February."
Hoteliers attributed the promotional fares and cheap packages promoted by Thailand and Malaysia to declining Indian visitor numbers in Nepal. "Nepal is no longer an appealing destination to Indians due to expensive airfare and accommodation compared to other cheap holiday destinations," said Avik JB Singh, sales and marketing manager at Hotel Annapurna.
He, however, said as the Indian holiday season begins from March, Indian traveller movement will improve to some extent. Singh said February has so far been good for his hotel and March "is also going to be better". "If there is no political disturbance, we see a good month of March."
Everest Hotel, one of the favourites among Indian travellers, also said the number of Indian tourists dropped significantly. However, the hotel doesn't have any clue on the falling numbers.
Major hotels have slashed their tariffs since December last year to January-end following slowed growth in tourist arrivals. The room rates of most five-star properties have dropped 10-15 percent, basically prompted by a slump in arrivals from the European and Indian markets. Visitors from these two markets are big spenders for Nepali tourism.
The tariff of almost all the five-star hotels has dropped to $80-90 from $90-100. The decline in prices also points to fewer business-class clients.
As the March-May period attracts a large number of Indian leisure tourists to Nepal, travel agencies said carriers are on a plan to hike airfares. Trekking agencies are also looking at the upcoming season more optimistically. As trekkers are normally high spenders, hoteliers are also watchful on the numbers in trekking activities.
Mahendra Singh Thapa, president of the Trekking Agencies Association of Nepal, said the present inquires suggest an increased movement of trekkers this season. "Formally, the trekking season has begun and there are positive bookings and inquiries," he said.
Trekkers grew by a mere 3 percent last year. According to Thapa, Chinese have also started short trekking (2-3 days), which is quite positive for the industry. Similarly, Indian visitors, who normally make market segments like corporate movement, leisure and business, are gradually being attracted towards trekking.