Nepal Telecom to distribute hi-speed CDMA mobile lines 'within a month'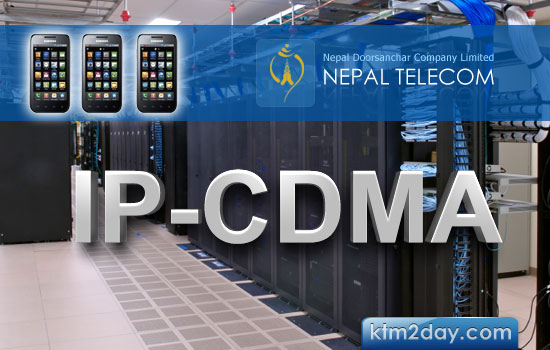 Nepal Telecom (NT) is making final preparations for the distribution of IP-CDMA mobile lines boasting high-speed wireless data service across the country. The state-owned telecom operator will soon distribute 300,000 mobile lines in the first phase.
The planned mobile line distribution is a part of NT's 2 million mobile lines project based on IP-CDMA technology. Also known as next generation telephony service, the technology offers voice and Evolution Data Optimized (EVDO) data service with speed up to 3.1 Mbps.
In the initial phase, a total of 300,000 Removable User Identity Module (RUIM) cards will be distributed across the country. Such cards will offer the minimum speed of 153.6 kbps wireless data service regardless of terrain.
"Distribution of new IP-CDMA mobile lines will start within a month after procuring the RUIM cards," said Anoop Ranjan Bhattarai, deputy managing director at NT. He added that the mobile data service to be available in new lines would also be the cheapest one compared to other mobile data service currently being provided in the local telecom market.
NT has been promoting the new mobile service as brand name 'Sky Pro", which it defines as the upgradation of the Sky Phone/CDMA mobile service. The state-owned company has also been upgrading its CDMA network to modern IP-CDMA network, focusing on improving voice service and expand coverage of wireless mobile broadband internet all parts of the country.
Upgrading or migration from CDMA to IP-based infrastructure, according to NT, will complete soon in major cities that will allow the company to expand new mobile lines. After completing the migration, NT has brought EVDO service into operation in Bagmati, Lumbini, Narayani, Lumbini, Gandaki, Dhaulagiri, Koshi (Morang and Sunsari) and Jhapa of Mechi Zone. NT has set a target of distributing 700,000 IP-CDMA lines for this fiscal year.Bhattarai, who is also director of the NT's Wireless Service Directorate, said that the company would soon revise the tariff for data uses making it the cheapest mobile internet.
Besides voice, the Sky Pro service will enable subscribers to easily send and receive large files, high resolution pictures, video and watch videos without streaming through their mobile handsets. The price of RUIM card has been set at Rs 200 and NT will also make available the compatible handsets of Samsung and Alcatel under the bundled service agreement with local dealers.
Customers will have to buy a different mobile set compatible with EVDO technology. NT officials said that the smart-phone to be sold by Alcatel and Samsung dealers would range from Rs 13,000 to Rs 15,000 including price of the RUIM and certain bonus amount for data use.
NT spokesperson Guna Kesari Pradhan said that customers would also be able to buy handsets supporting EVDO from market after some time. "Since we have not started distribution of lines in bigger way, handsets compatible with such technology is not available in local market at present," she added.