Tourist arrivals up 6 percent in Feb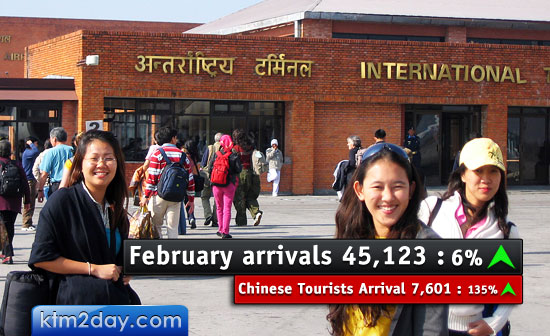 Nepal welcomed 45,123 tourists in February, up 6 percent compared to the same period last year.
Figures released by Tribhuvan International Airport (TIA) show that arrivals from Asia (other than South Asia) grew 46 percent. Arrivals from China, one of the fastest growing tourist markets for Nepal, jumped 135 percent to 7,601 in February. However, arrivals from India, the largest source market, dropped 18.2 percent to 11,093 in February, TIA said.
Visitor arrivals from Malaysia and Singapore registered a positive growth of 288.1 percent and 111.9 percent respectively. However, visitor arrivals from Japan, South Korea and Thailand slipped 20.1 percent, 29.4 percent and 0.3 percent respectively.
Arrivals from the South Asian region recorded a negative growth of 15.2 percent with Pakistan (44.3 percent) and Sri Lanka (35.3 percent) registering positive growths. Visitor arrivals from Bangladesh declined 5.3 percent.
Meanwhile, the European market registered a negative growth of 5.5 percent with major destinations showing fluctuating arrival figures. Arrivals from Germany and the Netherlands rose 8.3 percent and 21 percent respectively while arrivals from the UK, France, Italy, Switzerland and Russia recorded negative growths of 6 percent, 13.7 percent, 31.8 percent, 8.7 percent and 8 percent respectively.
Tourist arrivals from the US, Canada and New Zealand increased 11.2 percent, 42.2 percent and 44.8 percent respectively. However arrivals from Australia decreased 5.5 percent.
A total of 48,783 foreign tourists departed from TIA in February 2013.