Internet providers lost 60pc market share in five years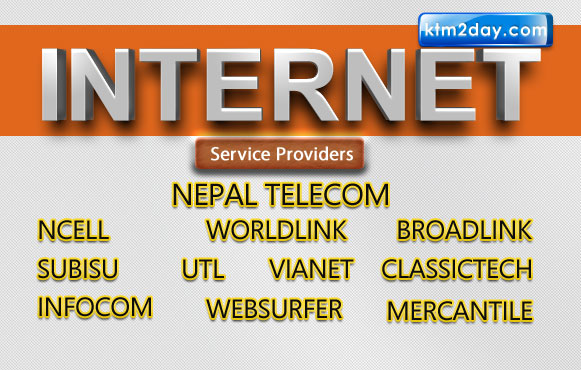 Internet service providers (ISPs) have lost 60 percent market share over the last 5 years, with telecom companies offering newer internet services at cheaper rates. In 2008, ISPs had a market share of 80 percent, which has now come down to 20 percent.
Limited service coverage areas of ISPs, introduction of services like ADSL, CDMA 1X, EDGE, GPRS and 3G by telecom companies, and ISPs' failure to maintain competitive prices have been attributed to downfall in their market share.
There are more than 40 ISPs in the country, but most of them are concentrated in urban areas providing wireless internet service.
Pawan Shakya, former president of the Internet Service Providers' Association of Nepal (ISPAN), said before the availability of services like ADSL, CDMA 1X and 3G, ISPs were servicing more than 80 percent customers. "Now the story has flipped, and 80 percent customers are serviced by telecom companies like Nepal Telecom (NT), Ncell and United Telecom Limited (UTL)," he said. "And, the market share is fast eroding."
ISPs started facing challenge especially after introduction of NT's ADSL service in 2008. This was followed by the growth in mobile service subscription, which increased the trend of surfing internet through mobile services like GPRS and 3G.
ISPAN said the quality of internet service offered by ISPs has also degraded as ISPs were not given the opportunity to roll out services in updated technologies.
Figures released by the Nepal Telecommunications Authority (NTA) show ISPs currently have 78,665 subscribers who use internet through technologies like dial up, wireless modem, optical fibre and cable modem. And, telecom companies have a total of 5.6 million data users, including 5.2 million users in GPRS, EDGE and 3G segments.
In a bid to compete with telecom companies, some ISPs like World Link, Subisu Cable Net, Classic Tech and Vianet have also launched promotional schemes.
Telecom operators' 4G plans and their growing focus on internet service are expected bring tougher days for ISPs, according to NTA officials.
Taking into account this threat, ISPs have started demanding the government provide "technology neutral spectrum" to them. An NTA official said the authority is considering offering WiMax and other spectrum to ISPs through auction.
ISPAN had earlier demanded sharing ADSL with NT, but that could not happen, Shakya said, adding now the government has not shown urgency to allow ISPs operate WiMax broadband service too. He added there would hardly be three-five ISPs in existence after five years from now if the government does not allow them providing services in new technologies.
NT is soon launching WiMax for household and individual customers. The company is also set to start distribution of Sky Pro service nationwide under the IP-CDMA project.