UWTC Mall to accommodate Bhat Bhateni Superstore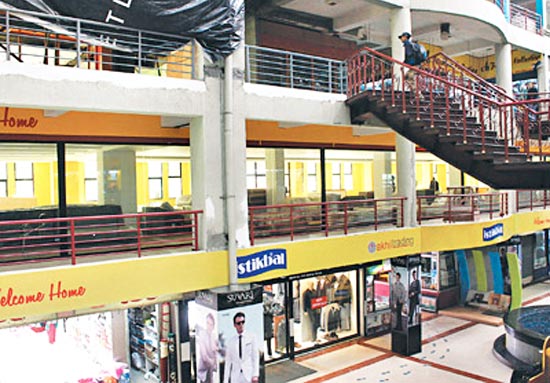 Wait for four months, and you'll get to see UWTC in a new avatar," Sandeep Hirachan, managing director of United World Trade Centre (UWTC) said on Friday. "Visitors will get to see a new ambience and structure inside the mall."
Hirachan said the mall is in preparation to welcome Bhat Bhateni Superstore, the country's most successful retail chain. To accommodate Bhat Bhateni and give a fresh feel to the overall ambiance, the mall management is currently busy in modifying the interiors.
Corridors in the front of the first and second floors have been demolished to turn the floors into a big store and avail space in the front for customers. The biggest shopping mall of the country with an area of around 150,000 sq ft is investing Rs 12 million for the purpose.
According to Hirachan, Bhat Bhateni will occupy one fourth (36,000 sq ft) of the total space of the mall. Bhat Bhateni will cover half of the spaces on the ground, first and second floors. "We expect the superstore to start operation here within the next four-five months," said Hirachan.
The entry of Bhat Bhateni is expected to give UWTC a new boost, when the overall market of shopping malls in the Kathmandu valley is not in a good shape. "Bhat Bhateni is one of those companies, of which all the Nepalis should be proud of," Hirachan said, adding the company is elated to announce its entry into the mall. "It will add up to the image of UWTC and footfalls will escalate significantly."
At a time when shopping malls are holding promotional events and offering lucrative schemes to increase footfalls, Bhat Bhateni will be a trump card for UWTC to increase visitor numbers. Bhat Bhateni is Nepal's largest retail chain with annual sales of over Rs 4.32 billion in 2011-12. Around 4,000-8,000 customers visit every outlet of the super store every day.
The arrival of the retail chain, according to Hirachan, will also help realise the dream of United Builders, the parent company of UWTC, to turn it into an out-an-out shopping destination.
While most of the malls in the Capital are banking on entertainment amenities like multiplexes and game zones, Hirachan feels a shopping mall should primarily be known for the availability of products and shopping experience. "We don't want to gather mass by offering secondary business options like multiplex and game zones. It is shopping experience which should be at the focal point and Bhat Bhateni's arrival will help us in our endeavour to make it a proper mall," he said.
And that's now all. UWTC will soon feature a jewellery store, furniture showroom Istikbal and a few other showrooms which will be big in size and have a world class appeal. "As we are yet to sign on the dotted line, I can't reveal much about our new plans. But a lot of new stores are coming to match up to the level we have envisaged," Hirachan said.
Furniture showroom Istikbal will be another major highlight complementing Bhat Bhateni at UWTC. Istikbal showroom, which covers an area of 5,000 sq ft in the front part of the first floor, is under construction and is expected to open very soon. Istikbal is among the world's top five furniture manufacturers in terms of turnover and has 110 exclusive outlets in over 80 countries.
UWTC is also looking for an alternative parking space and is considering leasing some spaces around the building.