Nepal's real estate business now looking for a revival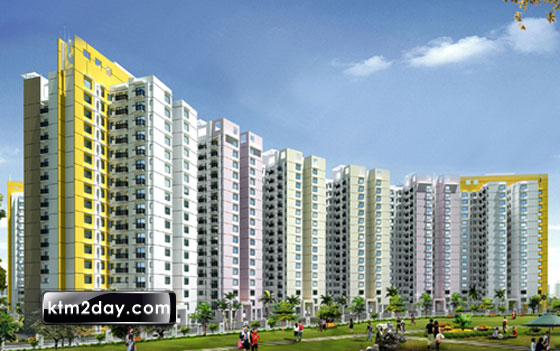 After a four-year slowdown, the country's real estate business is now looking for a revival. Though realty developers have not announced any major projects, enquiries for budget apartments are increasing and land revenue offices (LROs) in Kathmandu are seeing a surge in revenue collection. There have been positive movements in realty transactions in Kathmandu, the major market for the country's realty business. All the five LROs in Kathmandu district have exceeded their revenue target in the first nine months of the current fiscal year.
Revenue collection during the last one-month period (mid-March to mid-April) of the five LROs in Kathmandu stood at Rs 570.5 million, a four-year high. Officials of the Department of Land Revenue Management (DoLRM) said that transactions in land plots worth less than Rs 3 million have increased significantly over the period. Likewise, realty developers said that they had witnessed a surge in enquiries for budget homes. "As investors have lost confidence in gold, investments in real estate are bound to rise," said Iccha Raj Tamang, president of the Nepal Land and Housing Developers' Association (NLHDA).
NLHDA general secretary Min Man Shrestha said that the situation for the realty business in the country is slowly becoming favourable. "Compared to the situation around a year ago, business has become more stable," said Shrestha, adding that home loans, on which the interest rate was standing at around 16-18 percent until a few years back, now stands in the range of 9.5-12 percent, offering a big respite to the sector.
Likewise, Green Hill City managing director Bhesh Raj Lohani said that the scenario of the real estate market had become livelier with people showing interest in purchasing property.
While most of the people planning to go for real estate properties are still reluctant to make a move, there are some who are actively searching for properties in town. Most of these buyers say that the significant correction in prices and stability in the market has ended their wait and watch mode. "Compared to the period when the real estate market crashed, the price of properties has corrected by around 50-60 percent. This has motivated buyers," Lohani said. He added that the price of real estate has remained stable since the past three years. Even though prices of construction materials have surged by around 25 percent, developers haven't increased the price of real estate.
Right time for home buyers
Of the total housing and apartment projects being implemented in the country currently, around 25 percent are ready for handover. Likewise, 50 percent of the projects will be completed within the next three to four months, which will give enough choices for buyers.
"Four years back when the realty market crashed, people had to make investments relying on the construction plans and designs. Since construction of almost 75 percent of the projects will conclude within the coming three to four months, people can actually have a look at the properties they are looking for," Shrestha said.
Another factor that makes this the right time for buyers to make an investment in real estate is the increasing price war between developers. Now the domestic market features apartment projects starting from around Rs 2 million per unit which can perfectly match the buyers' pockets. Likewise, easy financing facilities with the promise from financial institutions to maintain the same interest rate for a fixed time interval too makes property buying a good decision currently.
Decade-long history
The real estate and housing business which assumed formal shape around 11 years ago has come a long way. It is now one of the sectors having significant investments. According to realty developers, the sector currently has an investment of around Rs 200 billion. Between mid-April 2005 to March 2013, around 65 apartment projects having 6,330 apartment units were implemented. Of the total, 12 apartment projects have acquired completion certificates, making 870 units of apartments ready to move in for buyers. Likewise, the scenario of stand-alone housing too is no different. Numerous property developers are constructing stand-alone houses. According to a rough calculation, there are around 1,200 stand-alone housing projects going on at current.
The future
Realty developers say the business has completed its transition phase. "The real estate business has completed its transition phase. As the major concern of buyers, that is prices, being corrected, the future is certainly good," said Lohani.
He added that there is always a big demand for homes in the Capital, and this trend will continue for years to come. Another factor that makes the future of the realty business bright is the change in the mindset of developers. While most of the projects being developed today are focused toward offering shelter along with luxurious amenities, the ones coming in from now onwards will basically focus on offering the basic necessities of the general people.
"Real estate projects coming in now will be dedicated to the common people," Shrestha said. "Most of the companies will increase their focus on affordability." Shrestha, however, feels that there is very little chance of growth in apartment projects in the near future. "It takes around two to three years to acquire a permit for developing apartments. And since most of the developers are staying away from this, there will be an increment in the construction of stand-alone houses," said Shrestha.
A rough calculation indicates that around 30 ropanis of land are required to construct 100 stand-alone houses.
However, apartments can accommodate 211 families in an area of just 12 ropanis of land. Going by this figure, apartments seem to be a must in cities like Kathmandu, which has been losing its charm due to haphazard urbanisation.
Despite being the need of the future, developers say that the development of apartments cannot be ensured until and unless there is improvement in the current policy. According to Shrestha, the government should play an active role in the implementation of a one-door policy, land acquisition and discouraging unorganised urbanisation. "Apartments are the basic necessity of every developed city, and Kathmandu is no exception. Sooner the better, the government should take this issue seriously," said Shrestha.
Another thing that developers feel is necessary is offering home loans at an affordable price for first-time buyers. "Implementation of a policy that permits foreigners to buy homes in Nepal too is necessary," Shrestha said.
He added that countries like Thailand, Vietnam and Indonesia, among others, have gained economic prosperity through real estate development and Nepal too can go through the same process for economic stability. "Unfortunately, it has been three years since the government endorsed the policy but hasn't become successful in implementing it," Shrestha said.