Malaysia displaces Qatar as top destination for Nepali workers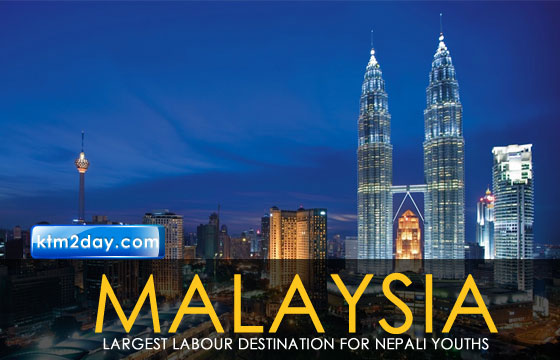 Malaysia has displaced Qatar as the top recruiter of Nepali migrant workers. In the last fiscal year, departures to that Southeast Asian country jumped a whopping 60 percent as state-owned companies exhibited a preference for Nepali workers over others.
According to the Department of Foreign Employment (DoFE), 156,770 migrant workers left for Malaysia in 2012-13 against 98,367 in 2011-12. Malaysia absorbed 34.56 percent of the total number of Nepalis going abroad for employment. Even as departures to Malaysia surged, major labour destinations in the Middle East hired fewer Nepali workers. Overall departures of migrant workers in the last fiscal increased 17.90 percent.
Foreign employment agencies and government officials have attributed the increased hiring by Malaysia to multiple factors including a slowdown in recruitment of workers from other labour sending countries like Indonesia and Myanmar.
Moreover, the Malaysian government has stopped the employment of Bangladeshi workers. The two countries had agreed to send workers through government-to-government channel but it could not materialize due to pressure from the private sector in Bangladesh.
Officials of the Nepal Association of Foreign Employment Agencies (NAFEA) said there has been a rise in the number of women going for industrial jobs in Malaysia. Last year, 7,165 women went to Malaysia to work in the industrial and plantation sectors. "This is a new phenomenon. There will be greater demand for women in these sectors in the coming year," said Kumud Khanal, former NAFEA second secretary, whose company sends workers to Malaysia.
According to manpower agencies, there will be greater demand from Malaysia this fiscal too. "Malaysian state-operated plantations and factories are slowly shifting their attention to Nepali workers after they could not recruit workers from Bangladesh. There will be requests for thousands of workers from state-run agencies."
State-run companies are comparatively safer and better places to work as they offer good wages and other facilities like overtime and insurance.
With Malaysian companies offering attractive pay packages, there has been a decline in departures of migrant workers to almost all the other leading labour destinations like Qatar, Saudi Arabia, the UAE, Kuwait, Bahrain and Oman.
The NAFEA said Nepali workers prefer Malaysia over Saudi Arabia and Kuwait as wages are much lower in these countries. Manpower agencies said they are unable to fulfil demand from Saudi companies due to lack of interest among Nepali workers to work there. Other countries like Qatar and the UAE are reported to have given preference to Indonesian, Filipino and Myanmarese workers due to the incidence of Nepali workers going on strike.
"People are choosing Malaysia because wages are good and the Malaysian currency is becoming stronger every year," said a manpower entrepreneur.
DoFE spokesperson Divas Acharya said people preferred Malaysia over Gulf countries due to wages, climatic conditions and worker friendly laws. "We have found that youths normally go to countries where the work is easier and the laws are worker-friendly," said Acharya.
Meanwhile, the Nepal government has been making efforts to sign a labour agreement with Malaysia as it has emerged as the most preferred destination for migrant workers. Recently, a four-member Nepali delegation submitted the final copy of the proposed agreement to the director general of the Malaysian labour department. This is the third time in two years that Nepal has requested Malaysia to sign a labour pact.
In 2011, Malaysia's labour minister had announced at a function marking the 50th anniversary of the establishment of diplomatic ties between the two countries that it would sign a labour agreement.
But it never materialised due to disagreements over a number of points in the draft.
FOREIGN EMPLOYMENT
Country FY 2012-13 FY 2011-12
Malaysia 156,770 98,367
Qatar 90,935 105,681
Saudi Arabia 86,276 80,455
UAE 52,295 54,482
Kuwait 14,401 24,575
Bahrain 3,390 5,865
Oman 3,114 3,163