Damaged TIA runway affects flights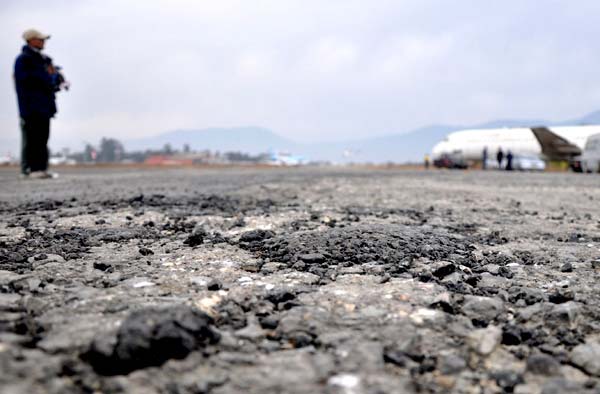 Tribhuvan International Airport (TIA), the only international airport in the country, temporarily halted its service on Sunday afternoon after a pothole was detected on a section of its runway.
According to TIA, the only runway in the airport was closed for an hour from 2:10 pm to 3:15 pm. The TIA general manager Dinesh Prasad Shrestha said that the incoming flights had to be diverted as a pothole was detected around 80 cm of the delta south intersection of the runway.
The incoming international flights Air Arabia, Air India and Jet Airways were kept on hold and were later instructed to divert at the nearest possible airport.
"The runaway is facing problems due to frequent changes in the weather patterns. We have deployed a rapid action team to solve the problem immediately," Shrestha said. "And it is the high time we renovate the airstrip," said Shrestha.
As the airport closes only from midnight to 5:30 am in the morning it has been difficult to provide permanent solution to the runway as TIA has a single runway.
The government has already asked a Spanish company to conduct a study on cost, time and other technical aspects for renovating the runway.
"The Spanish company has been hired as we do not have human and technical resources to carry out the renovation work. The company had been instructed to submit its report as soon as possible, and once the company does so, we will renovate the runway to make sure that the problems are solved permanently," said Shrestha.
Only a week ago, some international flights were delayed due to a similar problem on the runway.