Timex watches launches new models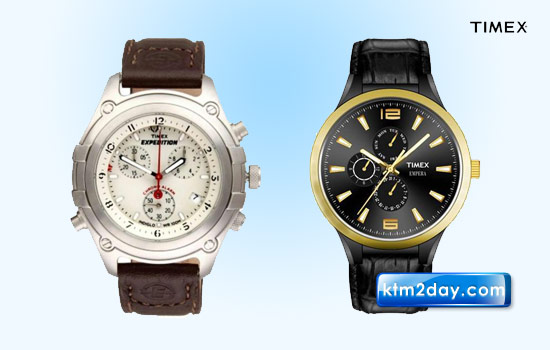 Electronics has launched 20 new models of Timex watches in the Nepali market targeting the upcoming festive season.
According to officials of Him Electronics, eight of the new models are for women while the rest are for men.
Janardan Adhikari, senior sales executive of Him Electronics, said the company has introduced new models under Empera and Classic series targeting the upcoming Teej and Bhai Tika festivals where brothers and sisters exchange gifts.
"Watches in the Empera series are elegantly shaped and reflect high craftsmanship," Adhikari said, adding that the company has launched three models for men and eight for women in the Empera series.
Men´s watches under Empera series costs Rs 3,000 while women´s Empera series watches are priced between Rs 4,000 and Rs 6,000.
"The Classic series, which has nine models all for men, has a reserved tone but reflects an individual´s personality," said Adhikari. Timex Classic watches are available at Rs 4,500.
The company claims that bands of Timex watches, be it leather or metallic one, are anti-allergic.
"Earlier we received complaint that some of our customers got allergic to the bands. Now, Timex has come up with a solution to it. Now all the watches are medically tested and are anti-allergic," said Adhikari.
The Timex Empera watches for women contains Swarovski crystal.
The newly launched models are currently available exclusively at Timex authorized dealers — Time Factory, Civil Mall; Kalpana Gift House, K L Tower; and Time Gallery, Peanuts Building, New Road. The company plans to make them available at 80 Timex outlets across the country within a week.
Timex watches for men across different series are available in the price range of Rs 2,500 to Rs 45,000, while watches for women are priced between Rs 2,500 and Rs 25,000. Timex watches for kids cost between Rs 1,600 and Rs 3,200.
Him Electronics provides two-year international warranty on Timex watches. The company sold 87,000 units of Timex watches in 2012/13 and plans to sell 100,000 units in the current fiscal year.