CAN Info-Tech 2014 starts from Jan 2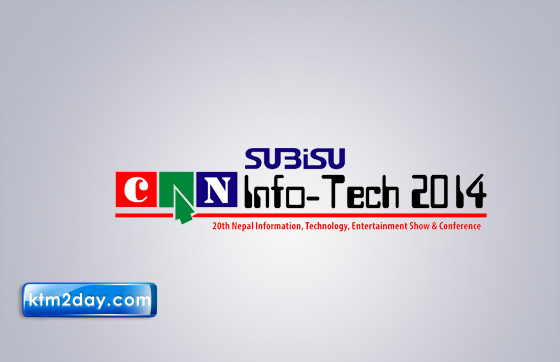 Computer Association of Nepal (CAN) is organizing the 20th edition of CAN Info-Tech – the annual information, communication and technology (ICT) show – from January 2 at the Bhrikuti Mandap Exhibition Hall.
Subisu is the title sponsor of the annual ICT event, CAN informed at a press meet here on Sunday.
At the press meet, CAN officials said the main objective of the event is to promote Nepali ICT industry and bring together all the stakeholders of the industry within a roof where problems and prospects of ICT industry can be discussed.
"CAN has been organizing number of national level IT fairs since two decades aiming to promote ICT industry of the country. The Info-Tech this year will be the best platform where information on global trend of IT development along with knowledge on latest technological innovations can be gained," CAN President Binod Dhakal said.
Amrit Kumar Pant, general secretary of CAN, said Nepal is still far behind compared to other countries in terms of technological development. "The fair will give a scenario of technological development in Nepal and across the world," added.
According to the organizers, the six-day event will have 221 stalls, including 15 food stalls, of more than 90 companies.
"More than 80 percent of stalls have already been booked," said Pant.
The Info-Tech will have stalls of hardware sales and maintenance, power solutions providers, dealers of mobile phones and accessories, hardware dealers and distributors, Internet service providers, telecommunications, ICT colleges and training institutes, software solutions and payment solutions, among others.
The organizers are expecting participation of more than 450,000 visitors. Ticket rates for the event have been fixed at Rs 100 for general visitors and Rs 50 for students.
Aiming to draw around 450,000 footfalls during the event, organizers have fixed the entry fee of Rs 100 to general visitors and Rs 50 to students. Similarly, CAN will also arrange online ticket booking system. Visitors buying tickets will get 25 percent discount, according to the organizers.
Meanwhile, CAN has fixed January 5 as ´Business Day´. On the day, it will charge Rs 100 to all the visitors.
According to CAN, the ´Business Day´ will provide a platform for buyers and sellers to strike a deal.
ICT conference on Jan 5 and 6
Computer Association of Nepal (CAN) is organizing Subisu ICT Conference in Kathmandu on January 5 and 6. Subisu is the title sponsor of both CAN Info-Tech and ICT Conference. According to the organizers, the conference will focus on ´Mobile Technology for Smart Society´ theme. Papers on M-governance, M-commerce and payment, M-education and Social change resulted by mobile technology will be presented by national and international experts.