Low-cost airlines flying high with passenger movement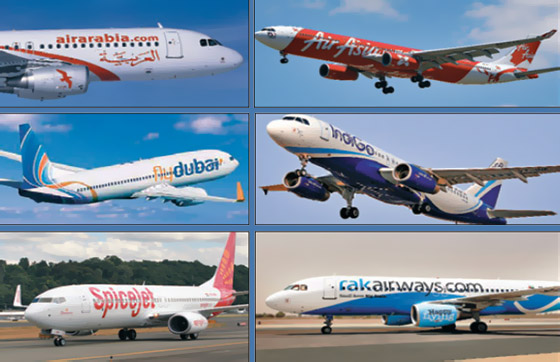 Air travellers swarmed around low-cost airlines confirming that ticket prices rule the skies. During the period January-September 2013, passenger movement on budget carriers soared 43.10 percent year on year.
According to Tribhuvan International Airport (TIA), low-cost airlines transported 671,086 travellers in the first nine mon-ths of last year. They accounted for 29.78 percent of the 2.25 million travellers who passed throu-gh the airport.
TIA is served by six budget carriers—Air Arabia, Fly Dubai, Spice Jet, Air Asia, Indigo and RAK Airways. Dubai-based Fly Dubai saw the highest passenger movement. It flew 171,403 passengers during the review period, up 93.69 percent from the previous year. Malaysian-based Air Asia, which launched Kathmandu-Kuala Lumpur flights on July 2012, transported 91,648 passengers during the January-September period.
RAK Airways, which is based in the emirate of Ras Al Khaim-ah, transported 27,216 travellers, up 73.62 percent year on year. The carrier started its Nepal service in February 2012. However, it has shut down its service due to financial constraints.
Air Arabia has also recorded strong passenger growth. The Sharjah-based carrier flew 159,053 flyers, up 18.17 percent. Fly Dubai and Air Arabia took the fourth and fifth spots in terms of passenger occupancy in the first nine months.
However, two Indian-based budget carriers, SpiceJet and Indigo, saw marginal growth in passenger movement. SpiceJet flew 133,050 passengers, up 2.76 percent, while Indigo flew 88,716 passengers, up 3.44 percent.
"Low-cost airlines are doing well worldwide, and they have filled the gap left by legacy carriers as many of them have been engulfed in problems due to high fuel and operating costs. In Nepal's case, the growth in the occupancy of low-cost airlines reflects ticket prices in the short-haul sector," said Shyam Raj Thapaliya, managing director of Osho World Travel Nepal. Lega-cy carriers charge Rs 30,000 for a KTM-Delhi flight while budget airlines charge Rs 17,000. "Moreover, airlines in Nepal largely depend on migrant workers, and they normally prefer to travel on cheaper airlines."
In terms of booking flights, which is based on the reservation booking designator (RBD), tickets on budget carriers are available three months in advance and they are cheaper. But legacy carriers show high RBD or booking a ticket on them in advance is relatively expensive, according to travel agencies. This is another reason why travellers prefer budget airlines, they said.
Low-cost airlines appeared in Nepal's skies four years ago, and they now have a good passenger following, added Thapaliya.
According to TIA stats, Qatar Airways topped the chart during the period January-September flying 264,352 passengers. However, its growth slipped marginally by 1.56 percent during the review period.
Jet Airways saw the strongest 10.79 percent growth, while passenger movement on Indian Airlines soared 16.03 percent.
Nepal's flag carrier Nepal Airlines Corporation slipped to the sixth position. However, its passenger occupancy grew 9.55 percent to 157,925 passengers during the review period. Thai Airways and Etihad Airways saw their passenger movement drop 5.91 percent and 10.29 percent respectively in the first nine months of 2013.
Three Chinese carriers connecting Kathmandu flew 132,326 travellers during the review period, up 30.81 percent. Air China, China Southern and China Eastern saw healthy growths of 18.69 percent, 20.21 percent and 66.39 percent respectively compared to the corresponding period in 2012.
Meanwhile, aircraft movement at TIA amounted to 17,049 flights in the first nine months of 2013, up 0.3 percent year on year. According to the figures, Nepal's one and only international airport handled 63.14 take-offs and landings daily.