Four wheeler registrations in Bagmati up 29%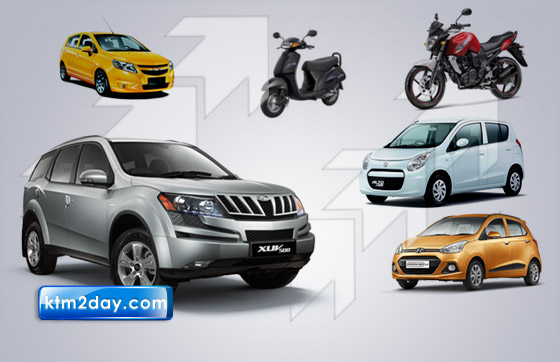 The registration of new vehicles in Bagmati zone, where the Kathmandu valley is situated, jumped 29.65 percent during the first half of the fiscal year.
According to the Department of Transport Management, 7,044 four-wheelers were registered during the period mid-July to mid-January 2013-14. Bagmati is the country's largest automobile market.
Traders have attributed the rise in imports to increased sales of Indian-made passenger cars. Among the new vehicles registered were 4,321 autos. During the same period last year, 5,433 vehicles including 3,314 cars were registered in Bagmati zone. The figures show that the registration of cars shot up 30 percent.
"Sales of Indian-made cars costing less than Rs 3 million are increasing," said Saurabh Jyoti, former president of the Nepal Automobile Dealers Association (Nada). He added that Indian cars were gaining popularity in the market as they were cheaper. Sales of high-end vehicles imported from third countries are almost nil.
A significant chunk of the local requirement for motor vehicles is being fulfilled by Indian products. Auto dealers said that prices of third-country cars soared 20-30 percent this year due to a stronger US dollar and Japanese yen, keeping potential buyers away.
The registration of all types of four-wheelers have gone up except mini buses, mini trucks and micro buses in Bagmati. As an impact of the ongoing road construction and widening drive, the registration of heavy equipment also went up sharply from 233 units last year to 418 units, or up 80 percent. In stark contrast, only 33 buses used for public transportation services were registered this year compared to 262 last year.
Officials at the department said that the domestic automobile market grew compared to last year due to the availability of financial services at lower interest rates. The current interest rate for auto loans is less than 10 percent. Besides easy auto loans from banks, lack of reliable public transportation services and road improvement in the Kathmandu valley have encouraged customers to buy private vehicles. Meanwhile, auto dealers said that sales of motorcycles had also posted good growth in the first half of the fiscal year. They added that even though sales of four-wheelers were good till the first trimester, they dipped slightly from the fifth month coinciding with the start of the off season.
Due to the auto show held prior to the festive season, a record 1,640 four-wheelers were registered in the fourth month (mid-October to mid-November). Registrations declined to 1,080 units in the fifth month (mid-November to mid-December) and rebounded to 1,222 units in the sixth month (mid-December to mid-January).