Domestic airlines passenger movement drop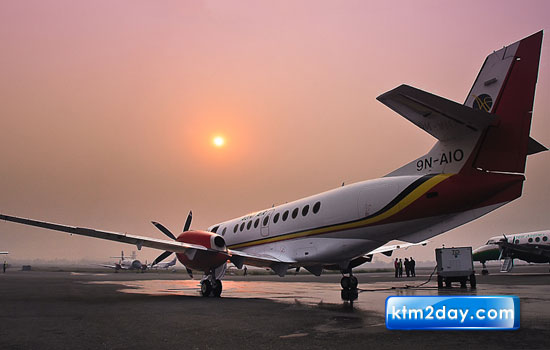 Nepal's domestic airlines saw their passenger movement drop for the second straight year as potential fliers chose to remain on the ground due to constant hikes in the fuel surcharge and a series of crashes that have made them think twice about travelling by air.
According to Tribhuvan International Airport (TIA), domestic passenger movement dropped 2.06 percent to 1.54 million last year, meaning airlines received 32,455 fewer passengers.
Passenger movement has been on a constant decline since 2012 marking a departure from the robust growth rates since 2008 when airlines were flying high due to competitive airfares, road blockades, increased NGO/INGO staff movement after the peace process and a real estate boom.
All the airlines except Buddha Air and Tara Air posted negative growths during the review period. Carriers said that maximum flight cancellations due to adverse weather conditions led to a decline in the number of fliers. Besides, a higher fuel surcharge was another contributing factor.
"Domestic carriers suffered a huge number of flight cancellations last year due to bad weather resulting in a decline in the number of fliers," said Ghanashyam Acharya, spokesperson of the Airlines Operators' Association of Nepal.
A large number of luxury buses operating on the highways and rising fuel surcharges also had an adverse effect on airline occupancy, he added.
Domestic airfares have soared more than 40 percent in less than three years. Fuel surcharges have been revised more than six times in the same period.
For instance, a one-way ticket on the longest domestic route Kathmandu-Dhangadhi costs Rs 11,795, which is almost the same as the price of a Kathmandu-Delhi ticket on a no-frill airline. The fuel surcharge on a ticket to Dhangadhi amounts to Rs 5,540.
Airline officials said that as fuel accounts for 30-35 percent of the total cost, it becomes the single biggest factor in losses if the fuel surcharge is not raised.
Operators said that the days ahead would be challenging with the European Commission blacklisting Nepali carriers for their poor safety record and telling European travellers not to fly on them. "The days ahead will be more challenging as aviation fuel price is expected to rise," said Birendra Bahadur Basnet, managing director of Buddha Air. "There could be slight increase in tourists but local passengers will not increase due to airfare structure."
Airline officials said that they had started feeling the impact as tourist occupancy have begun to drop. "Definitely, the impact of the ban will be visible. However, the government has reiterated that it is making all efforts to have the ban lifted, and airlines are hopeful of regaining their former occupancy rates," Acharya added.
Airlines saw a robust growth of 13 percent in 2008 which jumped to 33 percent in 2009 as airlines cut fares amid stiff competition. Although passenger movement increased 12.83 percent in 2010, the growth rate started dropping in 2011.
The Nepali skies saw 69,076 flights during the review period, a drop of 2.54 percent. According to the stats, an average of 192 domestic planes took off and landed at TIA daily. According to TIA, Buddha Air flew 892,270 travellers in 2013, up 1.20 percent.
Buddha's passenger growth was 27.59 percent in 2012. Yeti Airlines saw its passenger movement drop 2.09 percent to 443,335. However, Tara Air, which only operates on remote sectors, saw the strongest growth of 19.04 percent. It flew 81,853 passengers.
Simrik Airlines received 69,791 passengers last year when it acquired aircraft belonging to Agni Air and Guna Airlines. State-owned national flag carrier Nepal Airlines flew 20,591 passengers, a drop of 44.15 percent.
Yearwise passenger movement
| Year | Passenger (in million) | Change (in %) |
| --- | --- | --- |
| 2004 | 0.87 | 17.1 |
| 2005 | 1.11 | 26.8 |
| 2006 | 0.88 | -20.5 |
| 2007 | 0.91 | 3.8 |
| 2008 | 1.03 | 13.1 |
| 2009 | 1.37 | 32.9 |
| 2010 | 1.55 | 12.83 |
| 2011 | 1.58 | 1.85 |
| 2012 | 1.57 | -0.55 |
| 2013 | 1.54 | -2.06 |