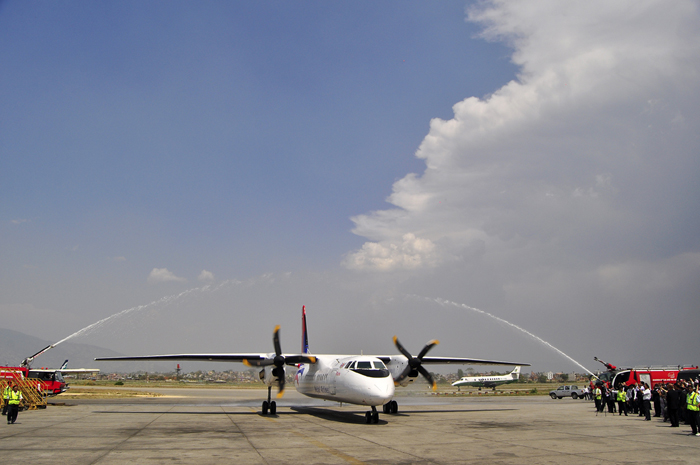 A 28-year wait for the Nepal Airlines Corporation to add new aircraft to its fleet ended on Sunday afternoon as the Chinese-made MA60 plane landed amid fanfare at the Tribhuvan International Airport (TIA).
The first of two 56-seater MA60 planes was provided by China in grant under a broader aircraft procurement deal between the two neighbours last year. NAC will receive four 19-seater Y-12e planes. Officials of the Tourism and Civil Aviation Ministry, NAC and Civil Aviation Authority of Nepal (Caan) were having anxious moments as the plane supposed to land at 12.10pm was delayed. It eventually touched down at 1.45pm.
The hangar area at the TIA witnessed a beehive of activities throughout the day, with Hindu priests offering prayers wishing for good omen even before the plane's landing. The plane was welcomed with a water canon salute as it approached the TIA apron.
"It's been like Dashain [festival]," said an elated Tarini Dahal of employee's union, referring to the activities at the airport. NAC General Manager Madan Kharel was quick to acquire information about the plane's operating system. "The plane's arrival is a great moment for us. Our effort will be to operate it as well as possible."
NAC has planned to put the aircraft into service starting from next week. "Initially, the plane will be used on Dhangadhi, Bhairahawa and Biratnagar routes," Kharel informed.
After investigating its technical status, Caan is expected to give Air Operator Certificate in a week for the plane. Putting behind two crashes in less than a year, the national flag carrier hopes to revive its domestic operations with a revamped fleet after all of the Chinese-made aircraft on order are delivered.
NAC is due to receive five more Chinese-made aircraft—one MA60 and four Y12e later this year. The MA60 aircraft are manufactured by Xi'an Aircraft Industrial Corporation under the AVIC International Holding Corporation, while Y12e are built by Harbin Aircraft Manufacturing Corporation.
The first of the Y12e planes is scheduled to arrive on June 30 and the rest by September 30. "The new planes will enable us to increase our flights on trunk routes too. This will enhance our position in the domestic market," said Ram Hari Sharma, NAC spokesman. "We will announce fares for new routes soon."
With the MA60 joining its fleet, Sharma claimed NAC could offer airfares at 20-25 percent lower than that of the private airline operators.
The MA60 will be used on Biratnagar, Pokhara, Bhairahawa, Nepalgunj and Bhadrapur routes. The smaller Y12e will operate on remote sectors, including a number of tourist destinations. Nepal Airlines flew 20,591 passengers, down 44.15 percent year on year, in 2013.
[av_image src='https://ktm2day.com/wp-content/uploads/2014/05/MA-60.jpg' attachment='10560′ align='center' animation='no-animation' link=" target="]