Dollar at 11-month low of Rs 94.37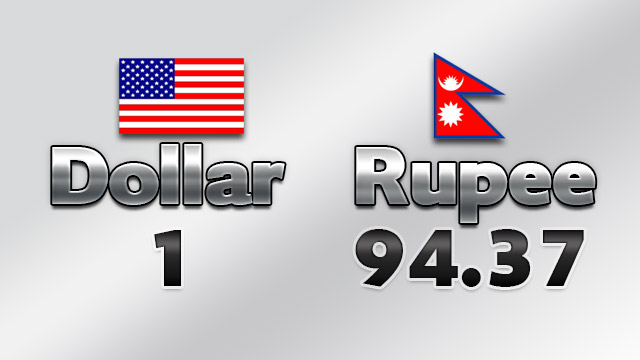 The Nepali rupee rode to an 11-month high against the US dollar on the back of a strong Indian currency following the optimistic Indian election results.
Nepal Rastra Bank (NRB) fixed the reference exchange rate at Rs 94.37 as selling rate for Saturday and Sunday, based on today's forex trading of commercial banks. Likewise, the buying rate has been fixed at Rs 93.77.
The rates were this low back on June 20, 2013, when NRB fixed a rate of Rs 94.25. The current rate is 15.5 per cent less than the highest point that the Nepali rupee has ever reached — Rs 109.03 — on September 04, 2013.
The Indian currency with which the domestic rupee is on a fixed peg also closed at an 11-month high after the Bharatiya Janata Party-led National Democratic Alliance won majority seats.
The Indian currency closed at IRs 58.86 level as banks and exporters sold dollars on hopes of higher foreign capital inflows as election results showed clear chances of a stable government at the Centre, according to The Economic Times.
The Indian currency was headed higher up, however, Reserve Bank of India (RBI) supposedly sold dollars in the market to cool off the Indian rupee. A too quick appreciation of the Indian rupee against the dollar is likely to hit exporters, calling for the RBI intervention.
The weak dollar against the Nepali currency is actually a boon for Nepali exports. Exporters earn more for the same quantity of products when the dollar becomes expensive.
Moreover, total exports have registered impressive gains in the past months as the strong dollar surged the value of total exports from Nepal in comparison to previous years.
The export to import ratio has also improved to 13 times year-on-year, which used to be 14 times last year. Likewise, cheaper dollar means shrinkage in size of remittance coming to Nepal from migrant workers abroad.
The current rise of remittance receipt of 31 per cent can be partially attributed to the strengthening of the dollar. On the other hand, imports will be relatively cheaper, so prices of mobile phones, readymade garments and electronics can be expected to go down if the Nepali rupee continues to get strong.