Jet Airways adds third daily flight to New Delhi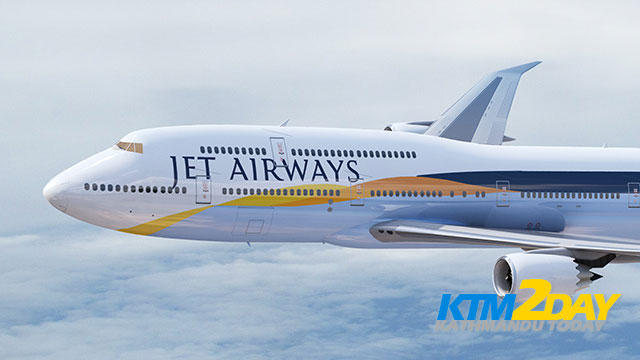 Jet Airways has started to operate five daily flights to the Capital, with the latest addition of a third daily flight between Kathmandu and Delhi.
The Indian carrier commenced its third daily flight to New Delhi from today. It will arrive from New Delhi's Indira Gandhi International Airport at 2:00pm and depart from Tribhuvan International Airport, here, daily at 3:00pm.
The airline used to operate four daily flights from Kathmandu — two flights to Mumbai and another two to New Delhi. Kathmandu has become an important market for the airline, with ever-growing number of outgoing migrant workers from Nepal to Gulf countries that use it for connecting flights to destination countries.
"Nepali workers going abroad are the largest passenger base for us, but the number of corporates, tourists and passengers visiting friends and relatives flying with us are also growing," pointed out Samir Chadha, country manager of Jet Airways for Nepal, adding that around 900 passengers from Kathmandu fly with the airline daily on an average.
"The occupancy rate of each flight stands at around 85 to 90 per cent, making Kathmandu one of the biggest South Asian markets for the airline," he informed.
Jet Airways operates a fleet of 112 aircraft and flies to 73 destinations across Asia, Europe and North America.