Projector sales soar as World Cup approaches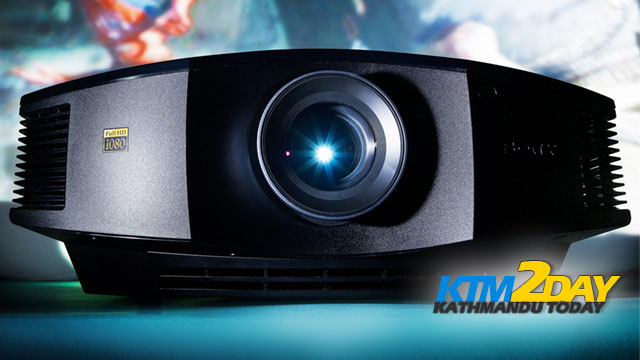 Demand for projectors has started to swell in the run-up to the World Cup with many football fans in the Kathmandu valley planning to enjoy the matches on the big screen. And in response to the rising football fever, local distributors have been rolling out a new range of projectors along with various schemes and offers.
The domestic market offers a wide range of projectors from brands like Vivitek, NEC, Epson, Infocus and Dell. Traders said that more and more people were going for projectors instead of televisions for the World Cup due to their affordability and better viewing experience.
Tarun Bajracharya, executive director of Evolution Trading, the authorised distributor of Vivitek, NEC and Optoma in Nepal, said that sales of projectors had started picking up with the World Cup approaching. He added that people usually enjoy watching the most celebrated sporting event with their friends and family on the big screen with projectors.
"TV is for regular viewing, but for World Cup football, people prefer to watch the matches on the big screen," he said. "Normally, schools, colleges and corporate houses are the only buyers of projectors, but the World Cup season has sent sales jumping three-fold." The company offers more than 25 varieties of projectors with prices ranging from Rs 45,000 to Rs to Rs 700,000.
The company recently launched the Vivitek D 556 and Vivitek D 967 projectors targeting World Cup buyers. The D 556 has a brightness of 3,000 lumens, resolution of SVGA (800×600) and contrast ratio of 15000:1. The company claims that its lamp lasts up to 6,000 hours.
Other features include 3D-Ready via DLP Link, Blu-ray functionality, key pad locks, inbuilt 2-watt speakers and 1.18 times optical zoom, among others. As a promotional scheme, customers buying the D556 projector will get free HDMI cable, Dish Home setup box and 70-inch screen. It is priced at Rs 59,000. Similarly, the D 967 has an ANSI 5,500 lumens of brightness, contrast ratio of 10000:1 and native resolution of XGA 1024×768. It also features Blu-ray functionality and Direct 3D through HDMI inputs.
The projector's other features are VGA output for display on a secondary monitor, inbuilt 5-watt speaker and efficient lamp that lasts up to 4,000 hours. Bajracharya said that these projectors were suitable for bars, restaurants, hotels and various clubs for large venues.
Meanwhile, Mercantile Office System, the authorised distributor of Epson projectors in Nepal, has also reported soaring sales. "We have been receiving lots of queries from potential customers, and sales have also started picking up since the beginning of June," said Raj Prajapati, sales manager of the company. The company offers a wide range of projectors from Epson priced from Rs 52,000 to Rs 156,000.