Tourist length of stay hits four-year low in 2013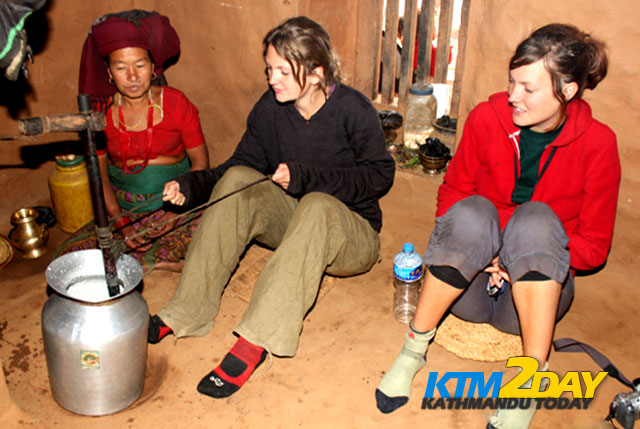 The average length of stay of tourists in Nepal dropped to a four-year low in 2013. According to preliminary statistics issued by the Ministry of Tourism, foreign visitors spent an average 12.57 days in the country last year. The figure for 2012 is 12.87 days.
Travel trade entrepreneurs said that short-break leisure activities had affected traditional long-stay holidays in Nepal.
"Due to an increased number of tourists from the neighbouring countries of China and India who normally prefer short-break leisure, the overall length of stay has fallen," said Ashok Pokhrel, president of the Nepal Association of Tour Operators (NATO).
He added that last year's election in November, which is the peak tourist season in Nepal, also played a major role in reducing length of stay as many travellers from the long-haul markets were forced to cut short their visit.
The average length of stay is likely to drop this year too due to the deadliest Everest avalanche on April 18 that sent mountaineers packing home within 15 days. High-end mountaineers, particularly those aspiring to climb Everest, stay for more than 45 days in Nepal and spend at least $ 40,000 each. This year, they spent less then 20 days in the country.
According to the Tourism Ministry, it gave climbing permits to 302 groups composed of 2,229 individuals for different peaks this year. Among the permits issued, 31 groups with 674 individuals (half of them foreigners) received them for Everest. The government earned Rs 368 million in climbing permit fees.
Considering that mountaineering is the largest contributor to extending the length of stay of visitors and increasing employment and revenues, the government has opened 104 virgin peaks for commercial climbing this year. The total number of peaks available for commercial climbing has reached 414. Opening mountains to climbers also leads to charting new trekking routes on its slopes.
Meanwhile, the European Commission's (EC) blanket ban on Nepali airlines has petrified the tourism industry. On Dec 5, 2013, the EC blacklisted Nepali carriers for their poor safety record. It has also told European travellers not to fly on any of them. "Definitely, the decision could affect arrivals from Europe who make up a major portion of trekkers and mountaineers," Pokhrel said. Domestic airlines said that they were beginning to feel the impact of the travel warning.
According to Aditya Baral, spokesperson of the Nepal Tourism Board, 2013 was mostly concentrated on cultural tours. "Nepal's travel packages have been concentrated on short-haul destinations since 2012 that resulted in an increased number of tourists but shorter stays," he said. For example, the Golden Triangle Tour packages-Chitwan, Pokhara and Lumbini-a 7-day travel package was most preferred and sold out packages last year. Indian and Chinese were the major customers of the golden triangle tour.
The length of stay of Indian tourists is the lowest among the source markets. Chinese visitors are the third shortest stayers. Nepal received 797,759 tourists in 2013, down from 803,092 in 2012.
The highest length of stay of 13.50 days was recorded in 1996. The shortest stay of 7.92 days was seen in 2002.
A decline in the number of strikes in 2011, when top political leaders promised not to hold shutdowns, had a positive impact on Nepal's tourism. The average length of stay then jumped to a seven-year high of 13.1 days.
[av_table purpose='tabular' caption='AVERAGE LENGTH OF STAY' responsive_styling='avia_responsive_table'] [av_row row_style="][av_cell col_style='avia-desc-col']Year[/av_cell][av_cell col_style='avia-desc-col']Length of stay[/av_cell][av_cell col_style='avia-desc-col'][/av_cell][/av_row] [av_row row_style="][av_cell col_style='avia-desc-col']2004[/av_cell][av_cell col_style='avia-desc-col']13.51[/av_cell][av_cell col_style='avia-desc-col'][/av_cell][/av_row] [av_row row_style="][av_cell col_style='avia-desc-col']2005[/av_cell][av_cell col_style='avia-desc-col']9.09[/av_cell][av_cell col_style='avia-desc-col'][/av_cell][/av_row] [av_row row_style="][av_cell col_style='avia-desc-col']2006[/av_cell][av_cell col_style='avia-desc-col']10.20[/av_cell][av_cell col_style='avia-desc-col'][/av_cell][/av_row] [av_row row_style="][av_cell col_style='avia-desc-col']2007[/av_cell][av_cell col_style='avia-desc-col']11.96[/av_cell][av_cell col_style='avia-desc-col'][/av_cell][/av_row] [av_row row_style="][av_cell col_style='avia-desc-col']2008[/av_cell][av_cell col_style='avia-desc-col']11.78[/av_cell][av_cell col_style='avia-desc-col'][/av_cell][/av_row] [av_row row_style="][av_cell col_style='avia-desc-col']2009[/av_cell][av_cell col_style='avia-desc-col']11.32[/av_cell][av_cell col_style='avia-desc-col'][/av_cell][/av_row] [av_row row_style="][av_cell col_style='avia-desc-col']2010[/av_cell][av_cell col_style='avia-desc-col']12.67[/av_cell][av_cell col_style='avia-desc-col'][/av_cell][/av_row] [av_row row_style="][av_cell col_style='avia-desc-col']2011[/av_cell][av_cell col_style='avia-desc-col']13.12[/av_cell][av_cell col_style='avia-desc-col'][/av_cell][/av_row] [av_row row_style="][av_cell col_style='avia-desc-col']2012[/av_cell][av_cell col_style='avia-desc-col']12.87[/av_cell][av_cell col_style='avia-desc-col'][/av_cell][/av_row] [av_row row_style="][av_cell col_style='avia-desc-col']2013[/av_cell][av_cell col_style='avia-desc-col']12.57[/av_cell][av_cell col_style='avia-desc-col'][/av_cell][/av_row] [av_row row_style="][av_cell col_style='avia-desc-col'][/av_cell][av_cell col_style='avia-desc-col'][/av_cell][av_cell col_style='avia-desc-col'](Source: Tourism Ministry)[/av_cell][/av_row] [/av_table]