FIFA World Cup Football 2014 schedule in Nepali Standard Time
The FIFA World Cup, often simply the World Cup, is an international association football competition contested by the senior men's national teams of the members of Fédération Internationale de Football Association (FIFA), the sport's global governing body. The championship has been awarded every four years since the inaugural tournament in 1930, except in 1942 and 1946 when it was not held because of the Second World War. The current champions are Spain, who won the 2010 tournament in South Africa.
The current format of the tournament involves 32 teams competing for the title at venues within the host nation(s) over a period of about a month; this phase is often called the World Cup Finals. A qualification phase, which currently takes place over the preceding three years, is used to determine which teams qualify for the tournament together with the host nation(s).
World Cup final: Germany defeats Argentina in extra time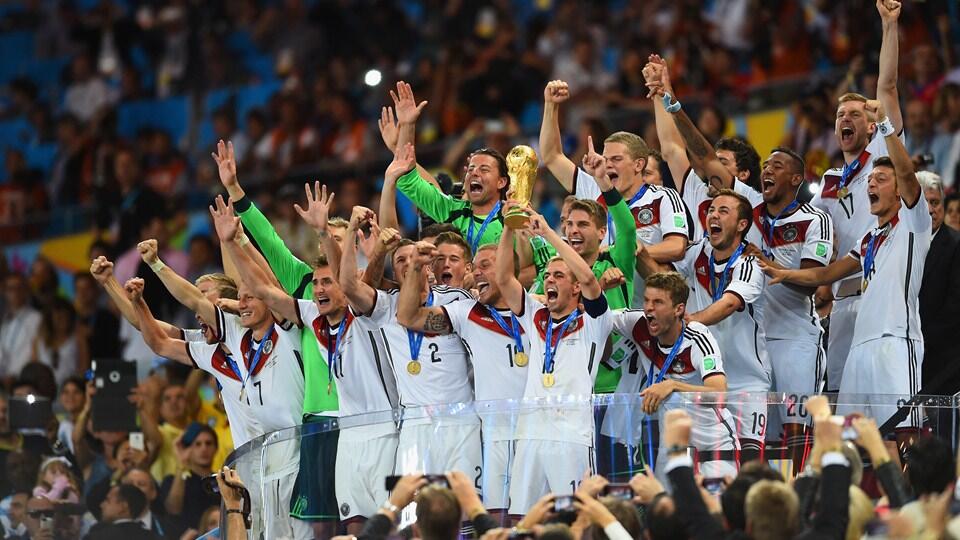 The now four-time champions, the first European team to win the World Cup on Latin American soil, earned the honor of lifting the most recognized trophy in sports with a tooth-and-nail 1-0 victory in a final as terrifically entertaining as the tournament itself.
For a 32-day showcase of football at its best, the winning goal was beautifully appropriate. Mario Goetze controlled the ball with his chest and then volleyed it into the Argentine goal, making difficult skills look so simple. Scored in the 113th minute, the mortal blow left Argentina too little time to recover.
German Chancellor Angela Merkel, sitting in the VIP section, waved a clenched fist as Goetze celebrated. When referee Nicola Rizzoli blew the final whistle a few minutes later, Vladimir Putin reached across and shook Merkel's hand. The Russian president's country hosts the next World Cup in 2018.
Another delighted German in the crowd was International Olympic Committee President Thomas Bach, who'll be keeping a close eye on Brazil's next big organizational challenge: readying Rio de Janeiro for the Summer Games in 2016.
Sepp Blatter, president of World Cup organizer FIFA, and Brazilian President Dilma Rousseff embraced as Germany's players went crazy with joy and Argentina's wept.
View galleryGermany's Mesut Ozil, left, controls the ball as …
Germany's Mesut Ozil, left, controls the ball as Argentina's Ezequiel Lavezzi, right, and Ar …
One of the ironies of this World Cup is that even though the tournament will be remembered as a resounding success, it was a headache for Rousseff and Blatter to the end.
As they handed over the 18-carat gold trophy to Germany captain Philipp Lahm, the Maracana Stadium echoed with an insulting chant aimed at the Brazilian president. There were resounding boos, too, when she was shown shaking the hand of losing coach Alejandro Sabella. Such protests were also heard at other stadiums during the tournament, demonstrating how the party atmosphere was a thin veneer for grave public misgivings about $13 billion of spending on cup preparations.
As sunset-pink clouds made way for night, and the teams treated the watching world to 30 minutes of extra time because they were still scoreless after 90 minutes, the iconic Maracana bathed in light looked like a spaceship landed between the hills, high-rises and favelas of Rio.
The 74,738 fans had a ball, especially Germans and Brazilians who didn't want Argentina, their neighbor and fiercest football rival, to win a third world title.
They drowned out the Argentine fans' tireless, jaunty singing with piercing whistles and shouted "Ole!" when Germany players' had the ball, weaving their game of intricate passing. Fireworks ripped the skies to celebrate Germany's first World Cup title as a unified nation, having won as West Germany in 1954, 1974 and 1990.
View galleryFormer English soccer player David Beckham takes pictures …
Former English soccer player David Beckham takes pictures as he arrives to attend the World Cup fina …
In once-divided Berlin, a monster crowd said by authorities to be a quarter-million strong crammed in front of giant TV screens near the German capital's famous Brandenburg Gate.
"At some point we'll stop celebrating but we'll still wake up with a smile," said Germany's Manuel Neuer, voted the tournament's best goalkeeper.
The biggest game in football attracted a good sprinkling of celebrities. David Beckham hugged Pele. Supermodel Gisele Bundchen snuggled with her husband, NFL star Tom Brady. Rolling Stones front-man Mick Jagger was there, too.
Even with tiring legs as they played into extra time, the two exquisitely matched teams gave and sought no quarter.
Germany brought brawn, its accurate passing and quick movement and tireless determination to attack and attack again. Argentina responded with bruising defense and craftiness and could have won had its players not wasted chances.
View galleryArgentina fans cheer prior to the World Cup final soccer …
Argentina fans cheer prior to the World Cup final soccer match between Germany and Argentina at the …
The inability of Lionel Messi, Argentina's four-time world player of the year, to stave off this defeat will renew debate about where he fits in football pantheons of greats.
Messi looked flabbergasted when he shot wide of Neuer's goal early in the second half, wasting a chance that had it gone in would have strengthened arguments that he is equal to Diego Maradona, who led Argentina to its last win in 1986.
For the highest stakes in football, players bruised body and soul. German midfielder Bastian Schweinsteiger was carrying a cut under his right eye as he walked up with his teammates to collect the trophy.
==================================================================================
[av_heading heading='PARTICIPATING TEAMS & GROUPS' tag='h2′ color=" custom_font=" style=" size=" subheading_active=" subheading_size='15' padding='10'][/av_heading]
[av_heading heading='Brazil World Cup 2014 Scorecard' tag='h2′ color=" custom_font=" style=" size=" subheading_active=" subheading_size='15' padding='10'][/av_heading]
Venue/Local Time
Country
 Score
Country

SEMI-FINALS

Tuesday 8 July

Semi Finals


Belo Horizonte – 01:45 NST
BRAZIL
1-7
GERMANY

Wednesday 9 July

Semi Finals


Sao Paulo – 01:45 NST
ARGENTINA
0-0
Penalty
4-2
NETHERLANDS

THIRD PLACE

Saturday 12 July

Finals


Brasilia – 00:45 NST
BRAZIL
0-3
NETHERLANDS

FINALS

Sunday 13 July

Finals


Rio de Janeiro – 01:45 NST
ARGENTINA
0-1
GERMANY
[av_heading heading='Knockout Round -Schedule Tie Sheet' tag='h2′ color=" custom_font=" style=" size=" subheading_active=" subheading_size='15' padding='10'][/av_heading]
[av_heading heading='Download Schedule & Tie Sheet in NEPALI' tag='h2′ color=" custom_font=" style=" size=" subheading_active=" subheading_size='15' padding='10'][/av_heading]