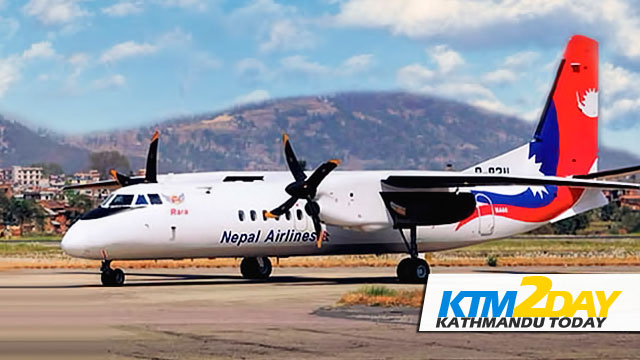 The Modern Ark (MA) 60 aircraft of Nepal Airlines Corporation (NAC) finally started commercial operation from Wednesday.
"The aircraft flew to Biratnagar early on Wednesday with 29 passengers on board. It returned to Kathmandu with 33 passengers," Ram Hari Sharma, spokesperson of NAC, told Republica.
The aircraft has been configured to carry 56 passengers.
The new aircraft will fly to Dhangadi, Bhairahawa, Biratnagar and Bhadrapur. For this, the state owned airlines had already published flight schedule and promotional fare.
NAC has fixed one-way promotional fare for Kathmandu-Dhangadhi sector at Rs 5,740. Private airlines are charging as high as Rs 11,795 for the route. Similarly, NAC´s promotional fare for Bhadrapur is Rs 4,130. Other airlines are charging Rs 8,165 for Kathmandu-Bhadrapur flight.
NAC has fixed promotional fare to Bhairahawa at Rs 3,145. Private carriers are charging Rs 6,205 for the flight. Likewise, NAC has fixed fare to Biratnagar at Rs 3,505. Private carriers are charging as high as Rs 7,075 for Kathmandu-Biratnagar flight.
Though the aircraft had landed in Kathmandu on April 27, NAC had failed to start commercial operation then because of the delay in registration of the aircraft in Nepal.