Dhalkebar-Muzaffarpur cross-border transmission line begins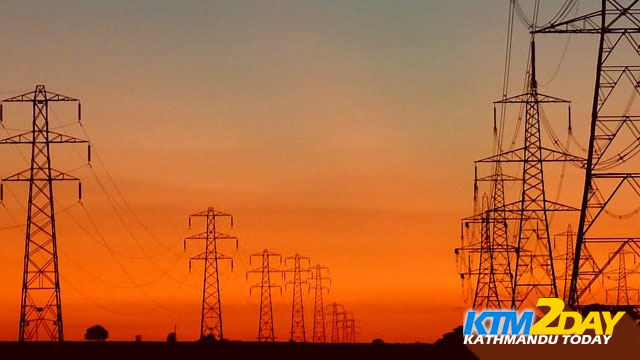 The construction of Nepali portion of much-touted Dhalkebar-Muzaffarpur cross-border transmission line began on Tuesday, with the Power Transmission Company Nepal Limited (PTCNL) laying foundation of the transmission towers at Manohar VDC of Mahottari district.
The 140 km transmission line is being constructed to facilitate power trade between Nepal and India. The 40-km portion of the transmission line on the Nepali side will have 115 towers. The PTCNL was formed in 2012 to build a 400 KV transmission line linking Dhalkebar-Muzaffarpur from the Nepali side.
The Nepal Electricity Authority (NEA) owns 50 percent of the PTCNL, while India's Hydroelectric Investment and Development Company (HIDC) has 14 percent. Two Indian companies Power Grid Corporation and IL&FS Energy of India have 26 and 10 percent stake in the company respectively.
The construction on the Indian side has already started. A parallel company, Cross-Border Power Transmission Company Limited (CPTCL), has been set up in India to develop the transmission line for the purpose.
The project is expected to be completed by August 2015. "As we are ready with required logistics,
the project is expected to move ahead as per our plan," said Badri Narayan Shah, project director at the PTCNL.
Barring a few place in Dhanusha district land acquisition is almost complete, Shah informed. "The project will require around three bigas of land in Dhanusha," said Shah. Of the 115 towers to be erected, 81 falls in Mahotari and rest in Dhanusha district.
The transmission line on the Nepali side is estimated to cost Rs 1.5 billion, which is being build by Indian contractor Tata Projects Ltd.
The completion of the cross-border transmission line will facilitate power trading between Nepal and India once both countries sign Power Trade Agreement (PTA). The PTA agreement is expected during Indian Prime Minister Narendra Modi's visit to Nepal in November.
Once the project is completed, it will establish a cross-border transmission capacity between the two countries of about 1200 MW. It is expected to increase power import from India by at least 100 MW.
Although the transmission line will initially be used to import electricity from India to meet the power deficit in Nepal, it will be used to export surplus power to India after large hydropower projects in Nepal come online.
The idea of cross-border transmission line between the two countries took shaped in the mid-2006 when India's IL&FS and Power Trading Corporation India and NEA decided to construct the line. the two countries signed a memorandum of understanding in 2009 to develop the project on a fast-track mode. And a year later, the World Bank agreed to provide $99 million in loan to expedite the project. The bank recently extended $39 million in additional assistance under the Nepal-India Electricity Transmission and Trade Project.