Nepal Telecom and Samsung jointly bring discount offers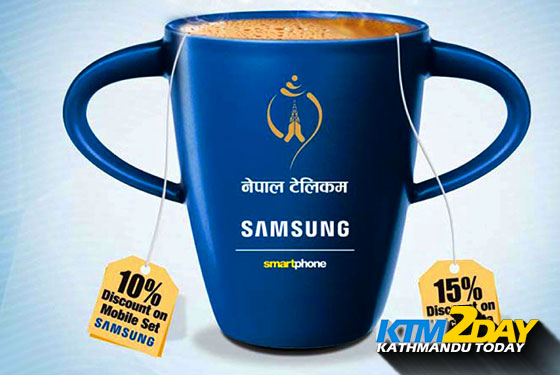 International Marketing Services (IMS), the authorised distributor of Samsung mobiles in Nepal, and Nepal Telecom (NT) have jointly launched a special discount offer for customers. As per the scheme, customers will get a 10 percent discount on selected Samsung handsets and 15 percent talk time or data value from Nepal Telecom on purchase of its SIM card along with any of five handsets from Samsung.
According to Dikesh Malhotra, president of IMS, customers will get free data worth Rs 5,880 for six months on purchase of Samsung Galaxy S 3 which costs Rs 35,550 with the discount. Similarly, customers can get the Samsung Core for Rs 21,780 along with a data package worth Rs 3,600 and the Samsung Trend for Rs 12,285 along with a data package worth Rs 2,040.
Meanwhile, for feature phone users, NT offers a discount on voice calls. Customers can get the Samsung Lakota for Rs 5,130 along with free voice calls worth Rs 825 and the Samsung Guru for Rs 2,034 along with free voice calls worth Rs 338. The free voice calls must be used within six months.
Addressing the inaugural event here on Monday, Deepak Malhotra, chairman of IMS, said that the country's mobile users would benefit through this joint venture. "This deal between the best mobile brand and the best network service provider in Nepal will be a stepping stone in the country's mobile and data market," he said.
Buddhi Prasad Acharya, officiating managing director of NT, said this bundling would further boost the company's data and voice market share. "With 8.7 million GSM users, 1.2 million CDMA users and 650,000 landline phone users, Nepal Telecom is the largest telecom service provider in the country, and this type of bundling will further strengthen our market share," he said.
NT has a 52 percent share of the internet data market in the country. "We have chosen Samsung for the bundling scheme as it has low-end to high-end mobile phones in the market catering to every class of customers," said Acharya.