Kathmandu's major streets to get solar-powered street lamps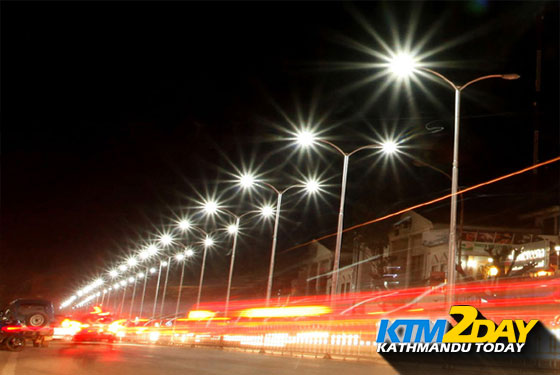 With the success of Durbarmarg solar street light project, the Kathmandu Metropolitan City now plans to install solar-powered street lamps in other major streets of the Capital.
By the end of October, KMC plans to install solar street lights in New Baneshwor, New Road, and the street surrounding Tundikhel. The project would cost an estimated Rs 40 million.
"All these stretches will have solar street lights under our Saarc beautification project," said KMC Chief Dhana Prasad Shrestha.
The KMC's recent city council has announced a budget of over Rs 680 million for the Saarc beautification projects. Rs 536 million of the budget will be injected by the government.
Shreshta added that installation of solar street lights will also promote renewable energy, as envisaged by the Kathmandu Ujyalo Karyakram, the project launched by the KMC last year to light up the streets of Kathmandu with solar-powered bulbs. Solar street lights have also been the priority in the KMC's fiscal budget that was announced recently.
The KMC also plans to appeal for public private partnership investment in the project. In doing so, the KMC hopes to make the member of the public responsible for public property and give them a sense of ownership.
A basic unit of solar-powered street lamp, including lamppost, solar panel, battery and bulb, costs around Rs 55,000. LED bulbs that use 18-24 watts of energy give about six hours of full backup lights.