New Smartphones Set For August Release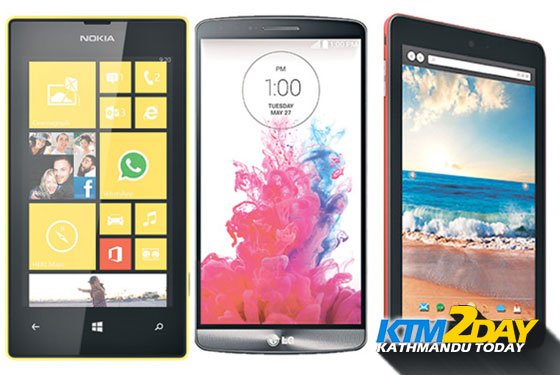 Domestic distributors of various brands have lined up a slew of gadgets to roll out this month. Nokia will be launching its affordable Windows phone Lumia 530 and X2 while LG will be unveiling its new flagship G3 to rival Samsung Galaxy S5. There are also many tablets and notebooks planned for an August release.
Neoteric Nepal, authorised distributor of Nokia, is all set to launch its first budget Windows phone Lumia 530 next month. According to the company, the phone will cost less than Rs 10,000. The company hopes to increase its share in the mobile market which has fallen way behind its rivals in the last few years.
The Lumia 530 is powered by a 1.2 GHz quad core Snapdragon 200 processor and runs Windows Phone 8.1 OS. It will come with single SIM and dual-SIM variants. The phone boasts a 5MP camera and 4-inch screen, 512MB RAM and 4GB storage. Microsoft programs including Skype and Office will be pre-installed. It is equi-pped with a 1,430 mAh battery.
Neoteric will also launch the Nokia X 2 which is the successor to the X and XL. Though the company is yet to announce the price, Yogesh Roy, business manager, said it would cost Rs 13,000 to Rs 14,000. The phone sports a 4.3-inch Clear Black LCD display with scratch-resistant glass.
The phone will be available with dual SIM functionality. It is powered by a 1.2 GHz Qualcomm Snapdragon 200 dual core processor and runs Nokia X 2.0, a customised version of Android. The phone features 1GB RAM, 4GB internal storage, 5MP rear camera with LED flash and VGA front camera. The company plans to launch the Lumia 930 high-end phone this week. The phone supports 4G and comes with a 5-inch screen with an impressive 441 ppi resolution. It is powered by a 2.2 GHz quad core Snapdragon 800 processor and runs on Windows Phone 8.1 operating system. The device sports a 20 MP Pure View camera with a stabilized Zeiss lens. According to Roy, the handset will be available for around Rs 65,000.
"Our previous launches the X and XL have become immensely popular in the market with sales exceeding our expectations. We aim to increase our market share by 5 percent with this new range of smartphones," said Roy.
Meanwhile, CG Electronics, authorised distributor of LG smartphones in Nepal, will launch the LG G3 high-end smartphone by the end of August. The phone is powered by a 2.5 GHz Qualcomm Snapdragon 801 quad core processor and runs on Android 4.4 KitKat operating system. The device comes with 5.5-inch screen with a resolution of 2,560 x 1,440 pixels) and sports a 13 MP camera that boasts of Optical Image Stabilization and laser auto focus. Ramesh Shrestha, general manager of the company, said that it would cost around Rs 80,000 in the domestic market.
Likewise, Neoteric, which is also the authorised distributor of Dell products in Nepal, is all set to launch the Dell Venue 8 tablet by next month. The Venue 8 tab runs on Android 4.2 Jelly Bean operating system and comes with an 8-inch HD IPS display. The device supports both 3G and Wi-Fi. It features 16 GB internal storage, 5 MP rear and 2 MP front facing camera.
According to Pawan Pradhan, product manager of the company, the Venue 8 will cost Rs 26,000 to Rs 27,000. The company also plans to launch four new notebooks, the Dell Inspiron 3442, 5442, 3552 and 5542, and Venue 8 tab next month.