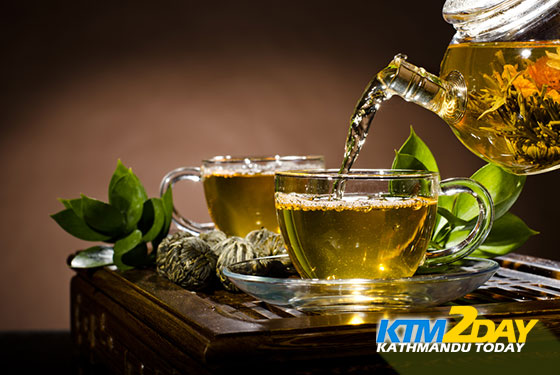 Health trends have pushed up sales of green tea in the country's urban areas. Green tea is available in jasmine, mint, lemon, ginger, honey and other varieties. Around a dozen branded green teas are sold in the country and there are more than 50 companies manufacturing the beverage. Tokla, Rakura, Yeti and A-one tea are some of the popular brands in the market.
"Green tea has become a trend among youngsters in urban areas with growing enthusiasm for fitness," said Som Prasad Gauchan, president of the Himalayan Orthodox Tea Producers Association. According to him, green tea consumption is growing 10-15 percent annually.
Companies manufacturing green tea have been promoting it by publicizing its many health benefits such as its effectiveness against high blood pressure, diabetes and cancer. Green tea is also publicized as being good for healthier skin and building a stronger immune system and assisting hair growth and weight loss.
Green tea accounts for 5 percent of the total tea sales. Until a few years ago, it was only exported to the international market," said Gauchan who is also the owner of Everest Green Tea. Green tea is manufactured from tea leaves grown in hill regions like Ilam, Phidim, Panchthar, Dhankuta and Sindhupalchok.
Meanwhile, CTC manufacturers have been entering the green tea market. Tokla, which has been producing black tea for many years, recently started selling green tea in the domestic market. Tokla green tea costs Rs 100 for a packet of 25 tea bags.
Similarly, Himalayan Tea Industries started selling Rakura tea from last year. "We have been selling green tea without packaging, but now we are totally focused on branding and packaging of the products," said Prajwol Kunwar, senior relationship officer of the company.
"Increasing health consciousness of the people has resulted in the consumption of premium segments that has pushed up overall sales." He said that there was increasing demand from youngsters, fitness centres and corporate offices. Rakura green tea comes in packets of 10 and 25 tea bags and in three varieties—jasmine, lemon and honey. A 200 gm packet of Rakura green tea costs Rs 380.
Twistina Subba, owner of Tea Direct Nepal, said that Nepali people were gradually starting to consume green tea. The increasing popularity has encouraged her to open a tea shop at Jawalakhel where she sells green and orthodox teas only. Green tea is priced at Rs 75 for a 300 ml pot, which holds three cups.
Similarly, Antim Ranjit, branding and marketing manager of Big Mart, said, "More and more people have been asking for green tea, so we expanded our inventory by adding more than seven Nepali brands and four international brands." However, due to lack of effective marketing and promotional schemes and a wide distribution system, the market has not been able to grow as expected, said traders. "Green tea has a huge potential in the domestic and international markets, so we have to focus on quality along with various promotional campaigns," said Gauchan of the association.
Although CTC tea still dominates the tea market, green tea has been emerging as a major product in the domestic market too. The overall tea production is estimated to have swelled 2 percent in the last fiscal year.
According to the Annual Development Programme (Part I) published by the National Planning Commission, the total tea production in the last fiscal year stood at 196,000 tonnes which is expected to grow to 210,000 tonnes in this fiscal year.