Ford Kuga launched in Nepal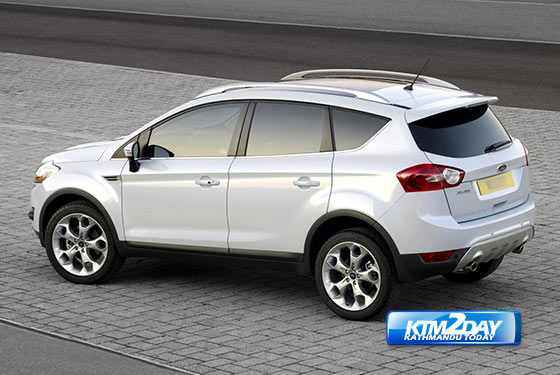 Powerful, refined and more stylish, both inside and out, Ford Kuga, Ford's smartest SUV has arrived in Nepal.
The new Ford Kuga has excellent storage capacity and boasts the very latest on-demand technology to keep the dream of off-road adventure alive.
An intelligent all-wheel drive system adapts to terrain and conditions in an instant, and the Ford SYNC reads out text
messages and gives hands-free control of music, calls and much more.
Equipped with many more innovative features, the Kuga takes SUV (Smart Utility Vehicle) styling and technology to a whole new level.
Moreover, one doesn't need to actually have their key in the hand to unlock the Ford Kuga, or start it, for that matter. As long as one has the key fob, the car will unlock and once in the driver's seat, one can simply put the foot on the brake pedal and press the start button.
Moreover, this isn't just any all-wheel-drive; every 16 milliseconds, the Ford Kuga adjusts the delivery of torque to each wheel, so you receive optimum cornering and traction.
There is a lot of space in the back of the Ford Kuga. There's even more when you start folding down the 60-40 split rear seats.
Taking up almost 50 per cent of the roof space, the glass roof brings the outdoors in, at the touch of a button.
The EcoBoost engine technology turns traditional petrol engine thinking on its head. It delivers small engine fuel economy and big engine power in one. So you don't have to compromise on either, thanks to an advanced combination of twin independent variable camshaft timing (Ti-VCT), turbocharging and direct fuel injection technologies.
To fully enjoy the engine's responsiveness, the 'sport mode' automatic transmission lets one switch to 'manual mode' so you can work the gears — without the clutch.
The Ford Kuga's system of next generation airbags surrounds the one in the driver's seat and passenger's with extra levels of protection. In the front seat, there are driver and passenger airbags and seat-mounted side airbags. There's even one for the driver's knee. Side-curtain airbags provide protection for people in the front and the back.
Lastly, the indicator lights in the side mirrors let the driver know if there's a vehicle in the blind spot when changing lanes.