Starwood's Aloft brand to debut in 2017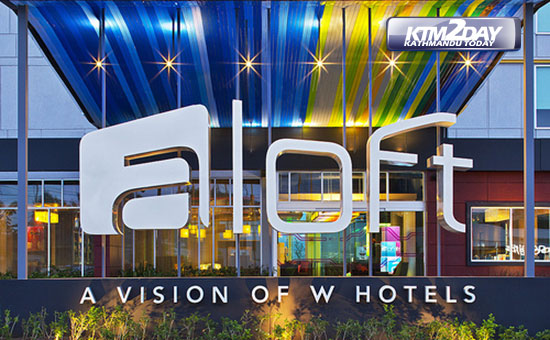 Among its various popular brands, the global chain Starwood Hotels and Resorts has announced today that Aloft Hotel chain will be set up in Chhaya Centre.
The Chhaya Centre is located in Thamel, a popular tourist destination in the Capital, and owned by the Chhaya Devi Complex Private Limited.
The hotel will be named Aloft Kathmandu Thamel. Unveiling the plans for the hotel, Prithvi Bahadur Pande, founder chairperson of the Chhaya Devi Complex, said that Nepal has outstanding prospects in tourism and needs huge investment in the tourism infrastructures. He admired government's efforts in building the regional airport in Pokhara, he said the international airport in Bhairahawa will make a major contribution in boosting the tourism industry, and Chhaya Centre also a tourism-related infrastructure promoted by the private sector to contribute in the national economy.
Pande also expressed hope that the country will be able to attract two million tourists by 2020 and said that the increasing number of hotels could help cater to their needs.
During the press meet today, Pande informed that 75 per cent of the construction works of the Chhaya Centre has been completed and it will start operation from mid-2017. The construction of the project began in January 2013.
Chhaya Centre is spread over 14 ropanis of land, comprising a shopping centre and a hotel, according to Pande.
"We are building 200 retail outlets, specialised restaurants, food courts and multi-plex cinema, not to mention two levels of underground car parking that can accommodate 400 cars and 300 motorcycles."
He further added that the 14-floored hotel building would house 175 rooms.
The company owned by Pande and his groups had signed a licensing agreement with Starwood South Asia Hotels and Resorts, Singapore to bring the global chain here in September 2014.
As per the agreement, Starwood agreed to expand Aloft Hotel chain in Chhaya Center, according to Pande.
It is reported that the US-based Starwood has been operating more than 1,200 properties across 100 countries.
Starwood launched its Aloft brand for the first time in 2008 and it focuses on the new generation travellers.
During the programme, it was also announced that the Aloft Kathmandu will be managed by Nidra Hospitality Pvt Ltd of India.
The United States Ambassador to Nepal Peter W Bode said that Nepal needs more investments like these to uplift its economy.
"It is entrepreneurship that contributes to the economy through investment, innovation and employment," Bode stated.
Likewise, Sudeep Jain, vice president of acquisition and development at Starwood Asia Pacific Hotels and Resorts, highlighted that the hotel's stylish design, buzzing bar and vibrant social scene will make Aloft Kathmandu a hotspot among travellers.