CAN Info-Tech 2015 kicked off in the capital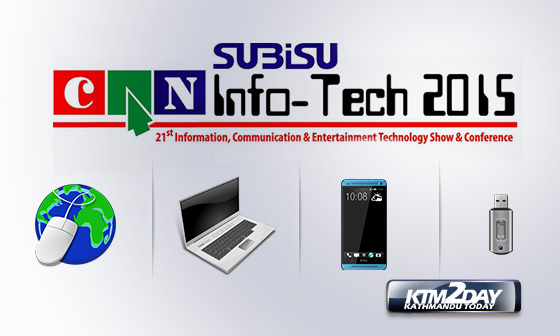 The 21st edition of CAN Info-Tech 2015 kicked off in the capital on Wednesday.
The mega Information Communications Technology (ICT) event is being organized by Computer Association of Nepal (CAN) Federation with an objective to promote domestic ICT sector and provide a common platform for all IT enthusiasts.
Inaugurating the event, Deputy Prime Minister Prakash Man Singh said the government was ready to extend all necessary support for the development of ICT sector.
He also said that pace of ICT sector development has slowed down in recent years due to political instability.
The Info-Tech has 219 stalls including nine food stalls. Dealers of computer hardware and software, computer maintenance firms, power solution providers, mobile and accessories dealers, computer distributors, Internet service providers, telecommunication operators, ICT colleges and training institutes, software solution and payment solution providers, and bank and financial institutions, among others have exhibited their products and services at the expo. All the participating companies have announced special offer and discounts to attract visitors. Some companies are making visitors play different games and giving prizes on the spot.
The Info-Tech had received 431,350 visitors last years. The organizers are expecting 450,000 visitors this year. CAN Federation is charging entry fee of Rs 150 per visitors. Students, however, get 50 percent discount on entry fee. Students of government will get free entry if they produce formal letter with name of the students. The organizers are also giving away attractive door prices to one lucky visitor every day. Subisu is the title sponsor of the event. According to CAN Federation, a total of 47,500 people visited the Info-Tech on Wednesday.