Nepali ISPs readying to launch IPTV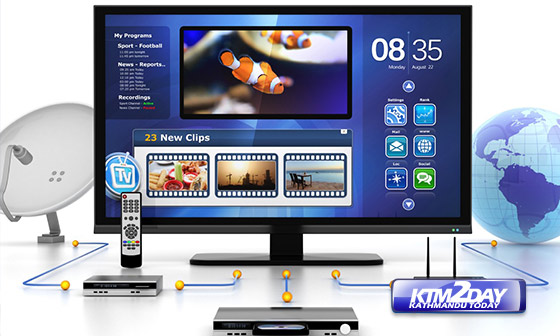 Nepalis can soon access number of television channels through a new technology called Internet Protocol Television (IPTV). Many Internet service providers (ISPs) are doing groundwork to launch the service in Nepal. Subisu, WorldLink and Vianet demonstrated the technology during the recently CAN Info-Tech 2015. Krishna Adhikari, managing director of New IT Venture, said once the new technology is launched customers will be able to watch television through Internet instead of traditional broadcast, satellite signal or cable television formats. New IT Venture has tied up with WorldLink and Vianet to launch IPTV service under the brand name NET TV. "We have already applied for the license. The service will be launched after few months," added Adhikari.
To watch television through IPTV, customers will have to install Android set-top box which will be given by the company upon subscription and the recommended speed for internet is 2 Mbps. Maheswor Thapa, sales officer of WorldLink, said they were planning to launch IPTV service so that customers can get Triple Play service — high speed Internet, IPTV and voice service through a single cable. IPTV has three major features — Live TV which allows customers to watch television, Time- Shifted which stores television programs on Cloud and allows customers to replay the program that was broadcasted few hours or even days ago, and Video on Demand (VoD) service that allows customers to look through videos not related to TV programs. These videos are stored on Cloud database of the service providers. "We will also provide videos like cartoons, films and songs, among others, as per the demand of our customers," Thapa said. Though two ISPs — WorldLink and Vianet — are launching the service in partnership with New IT Venture, Subisu is launching service on its own.
Sudhir Parajuli, CEO of Subisu, said they have completed all technological works and are currently busy finalizing the content. "We will launch the service by May," he added. Aziz Shrestha, manager-promotion and marketing of Vianet, said their service will be different from what WorldLink will provide to its customers. "We are demonstrating IPTV service and making people aware about the new technology. We will soon come up with attractive package," said Shrestha. For IPTV service, Ministry of Information and Communication (MoIC) charges registration fee of Rs 5,000 and licensing fee of Rs 25,000 per channel.
License has to be renewed annually by paying 10 percent of the licensing fee. Anup Nepal, under secretary of MoIC, two companies — Orient and Subisu — have taken license to launch IPTV service so far. We are in the process of reviewing the application of NET TV, he added. "However, license of Orient has already expired and they have not started process for renewal of the license," he added. The initial license is valid for 18 months. According to MoIC, Subisu has taken license for 15 channels and NET TV has applied license for 18 channels.